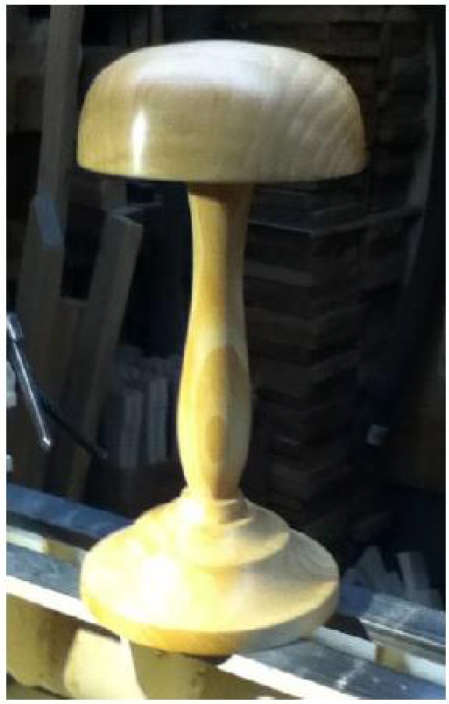 It is common for cancer patients to lose their hair while undergoing treatment. While there are many wig options available, there are not many attractive options for the stands that hold them.
We have an opportunity to create attractive hand-turned wooden stands to hold the patients' wigs and remind them that there people who care about them and want to bring beauty into their lives.
WGNC would like to challenge each member to join us in our workshop on Saturday May 18 at the NC State Crafts Center to create and gift wig stands to local cancer treatment centers. Terry Brown will be leading the session and Ted Ross will be coordinating. Please contact Ted through the club address (This email address is being protected from spambots. You need JavaScript enabled to view it.) if you are willing to help our community and build some new skills!
If you can't join the workshop but still want to contribute we need wood for the workshop. For each stand we need two 6"x6"x2.5" blanks and a 1.5"x1.5"x10" spindle blank, preferably of quality hardwood. Plan to bring them to our next WGNC Member meeting on May 9th.
Thanks and looking forward to working with all of you on this!
Attention all wood turners and friends! AAW hopes you have received their email with the Preliminary Symposium Schedule and rotations. This is the information you need to be able to volunteer time to assist with making the symposium a success.
Now you can register on line to schedule your volunteer time. AAW is asking for volunteers to staff the registration activities. The event runs July 11-14 at the convention center in downtown Raleigh.
Volunteers do not need to be attendees or members of the AAW. Bring your spouses, friends, neighbors and have a good time.
Planning for our 2019 demonstrators is a work in progress, but here's what we have planned to date:
May 9: Coring Systems Comparison - Ted, Steve, Mike B. and Richard C.
Jun 13: CNC with Resin or Birds mouth bowls - Norm Cloutier
Jul 12: No meeting this month (AAW Symposium Jul 11-14)
Aug 8: Natural Edges - Bob Reuss
Sep 12: Dyeing and Finishing - Jeff D. and others
Oct 10: Michael Gibson Teapot demo with workshops:
- Friday: Great Forms,
- Saturday: Embellishing
- Sunday: Enameling and other finishes, all subject to change.
Nov 14: Ornaments - Demo and Workshop - Local Team up to 6
Dec 12: TBD (maybe a short carving demo my Meryl and then Holiday party)
If you have an idea for a demonstration -- or demonstrator --  you would like to see, please email This email address is being protected from spambots. You need JavaScript enabled to view it. with your suggestions.
2019 Membership Dues
Renewal of your annual membership is $50 and due Jan. 1
Options for payment:
Pay at the monthly meeting with card, cash or check
Pay by mail with a check sent to:
Bob Reuss, WGNC Treasurer
3922 Lake Ferry Drive
Raleigh NC 27606