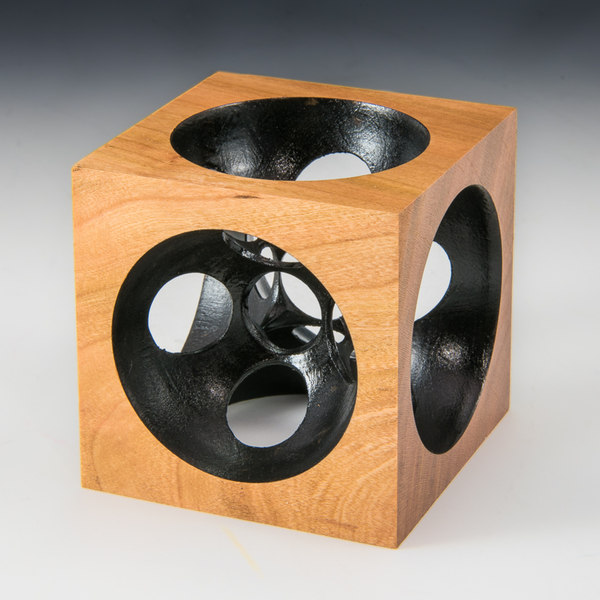 WGNC is pleased to welcome Jim Duxbury as our featured demonstrator for the March 14 monthly meeting. The meeting starting time is 6:45 PM. This was originally scheduled for September but was cancelled due to a hurricane threat.
Jim's demonstration is titled Intersecting Spheres. Quoting Jim, "this demonstration is based on the geometric principals --- if two spheres of any size intersect each other the plane of intersection will be a perfect circle.
The demonstration will show details on how to layout all six equal sized spheres on any sized cube so that they intersect exactly to make the small open circles. Details to make the template that will be used to guide the cutting of each of the intersecting spheres will be shown.
When completed, highlights and accents can be added if so desired. These cubes have even been decorated and hung for unique, interesting Christmas ornaments or just as a conversation piece.

The AAW is offering a chapter group discount for the 2019 AAW Symposium, in Raleigh, NC, July 14-17, 2019. The offer is for AAW members only and extends a savings of $25 off the $325 symposium registration with a minimum of 10 early registrations. Chapters that elect to participate will also receive one complimentary reserved table at the Saturday evening dinner (dinner tickets are separate).
Symposium registration is $300
Spouse registration is $185 (for spouses to attend woodturning rotations)
Saturday night dinner tickets are $55 per person
Members that want to participate must bring a check to the March 14th WGNC meeting for the full amount. There will be a sign-up form available (see below) and collection of the checks.
Checks will be the only form of payment accepted -- no credit cards.
Make checks payable to: American Association of Woodturners.
For any additional information or questions, contact Ted Ross.
2019 Membership Dues
Renewal of your annual membership is $50 and due Jan. 1
Options for payment:
Pay at the monthly meeting with card, cash or check
Pay by mail with a check sent to:
Bob Reuss, WGNC Treasurer
3922 Lake Ferry Drive
Raleigh NC 27606
New from Glenn Lucas "Mastering Woodturning Series: No. 6 The Beaded Bowl"
The Beaded Bowl is an excellent project to refine the skills of the amateur woodturner. Using wood dimensions that are readily available, Glenn takes you step by step through making this beautiful bowl.
Clear instruction will help you make this otherwise challenging piece and the skills you will learn can be applied to turning any bowl. Turning the beads is shown using two different methods : a simple scraping technique for those new to turning, and, the skilled use of a spindle gouge with minimum of sanding.
Come check it out.