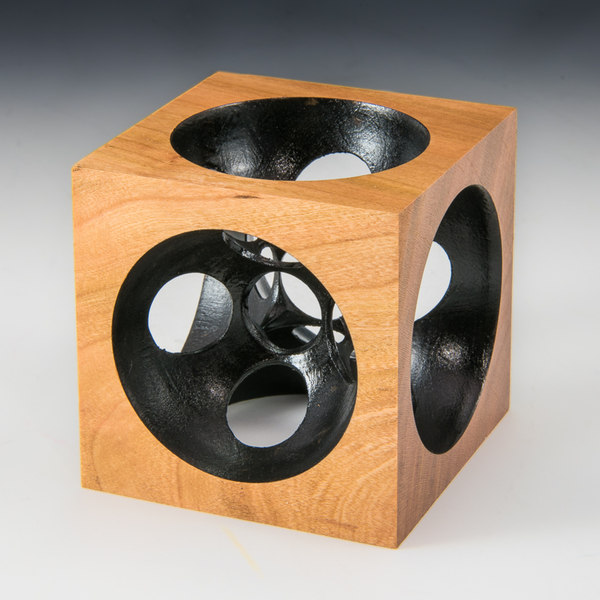 WGNC is pleased to welcome Jim Duxbury as our featured demonstrator for the Sept. 13 monthly meeting. The meeting starting time is 6:45 PM.
Jim's demonstration is titled Intersecting Spheres. Quoting Jim, "this demonstration is based on the geometric principals --- if two spheres of any size intersect each other the plane of intersection will be a perfect circle.
The demonstration will show details on how to layout all six equal sized spheres on any sized cube so that they intersect exactly to make the small open circles. Details to make the template that will be used to guide the cutting of each of the intersecting spheres will be shown.
When completed, highlights and accents can be added if so desired. These cubes have even been decorated and hung for unique, interesting Christmas ornaments or just as a conversation piece.
Due to a scheduling conflict, the Woodturners Guild of North Carolina has rescheduled the demonstration and workshops by Trent Bosch originally scheduled for October. Please note the following revised dates:
Thursday, November 1, 2018, 6:30 PM – Monthly WGNC meeting with Trent Bosch demonstration.
Friday November 2, 2018 – Full-day workshop at NCSU Craft Center. Tentative topic "Introduction to Hollowing"
Saturday November 3, 2018 – Full-day workshop at NCSU Craft Center. Tentative topic "Vessels and Surfaces"
Sunday November 4, 2018 – Full-day workshop at NCSU Craft Center. Tentative topic "Vessels of Illusion"
NOTE: THE NOVEMBER MEETING OF WGNC IS MOVED TO THE FIRST THURSDAY OF THE MONTH FOR NOVEMBER ONLY.
More details for registration and workshop topics will be available in the next few weeks. Please be sure to note the date change for the November membership meeting as well as the workshop dates.
A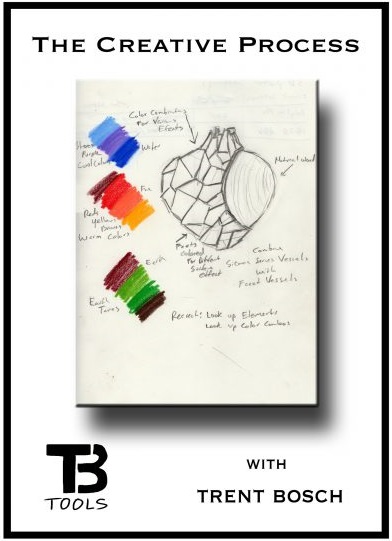 fter quite a dry spell in the "new material" department, this spring and summer has
seen a number of new additions. This month will not disappoint because the following items
are now available.
First up is "The Creative Process" by Trent Bosch.
This new DVD by Trent Bosch, walks you through all the steps Trent goes through when developing new ideas or combining existing ideas.
You will follow Trent as he brainstorms an idea, sketches the idea, prototypes, makes the idea come to life and the evaluation process after the idea is complete.
This is the perfect video for anyone looking to generate new ideas as well as for those not quite sure where to start.
Next up is "The Making of a Teapot" DVD by Michael Gibson.
Planning for our 2018 demonstrators is a work in progress, but here's what we have planned to date:
Sep. 13: Jim Duxbury: Intersecting Spheres
Oct. 11: -- Lars Nyland, topic TBD
Nov. 1: Trent Bosch (with day-long workshops Nov. 2-4)
If you have an idea for a demonstration -- or demonstrator --  you would like to see, please email This email address is being protected from spambots. You need JavaScript enabled to view it. with your suggestions.