The March 12 membership meeting and workshops scheduled for Friday through Sunday have been canceled. We are taking this step due to concerns related to the Coronavirus and the fact that NCSU is closing to the public.
We do not take this action lightly but given the circumstances we feel that this is the best path forward. We will continue to monitor the situation and send additional information about future meetings as the situation develops.
Workshop fees will be refunded to the credit card used to make the purchase. Please do not hesitate to contact us with any questions at This email address is being protected from spambots. You need JavaScript enabled to view it..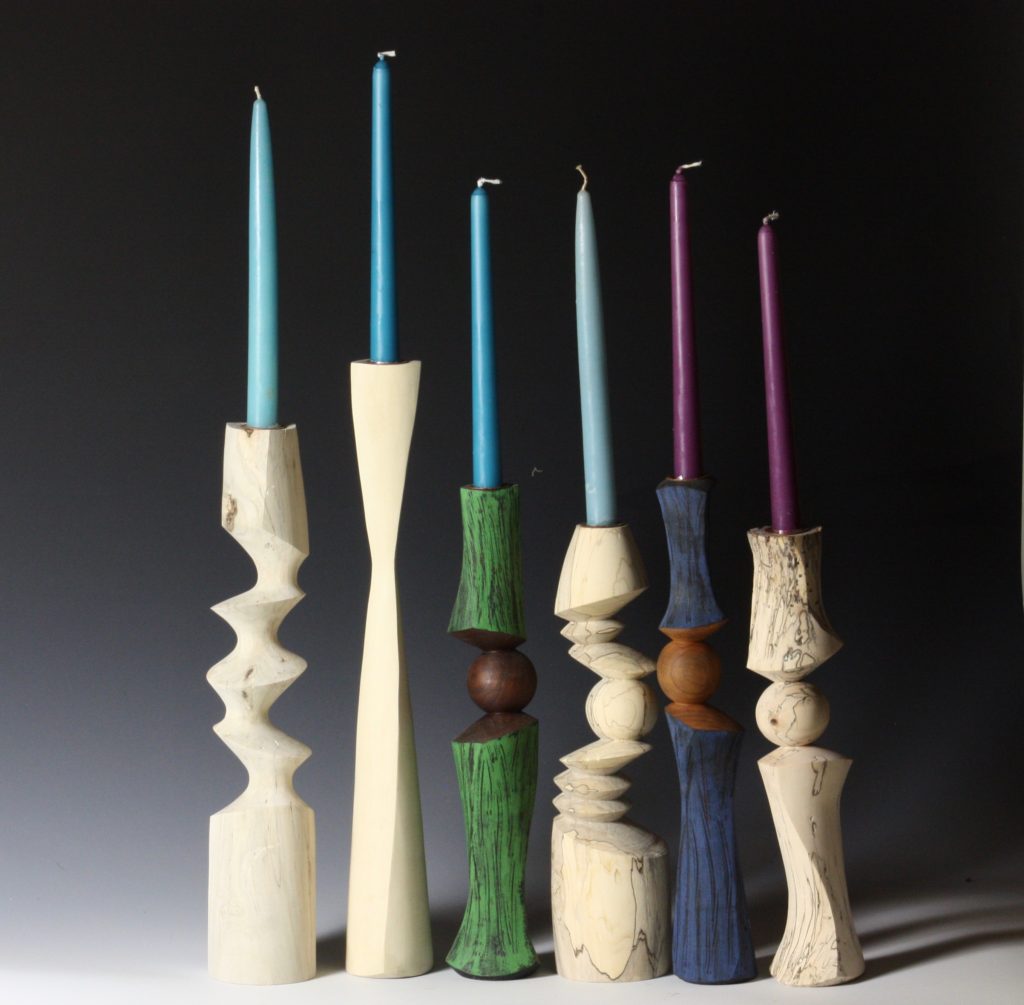 WGNC is very excited to have renowned multi-axis turner Barbara Dill for our March 12 meeting -- and three days of workshops -- in 2020. Come join us to welcome Barbara while she demonstrates everything you ever wanted to know about multi-axis spindles! She will discuss from start to finish the design process she uses to create these unique and artistic pieces.
Some of us have explored this area of turning by randomly changing the axes and discovering what happens. In this demo you will learn how to systematically explore multi-axis turning. We will look at the difference between parallel and twistedaxes and the two outcomes that can occur when turning a multi axis spindle. Barbara will demonstrate how all the variables can be applied to each axis to create very different designs. Knowing this will enable you to be creative beyond your wildest dreams!
Barbara will also conduct three daylong workshops for us following her demo at the regular club meeting. Member pricing for each workshop is $110, but a special package price of $300 is also available for all three days. Click here to order and reserve your space now. These workshops will not only be great learning opportunities but will also produce some very attractive pieces! Members are welcome to sign up for any number of days; there is no group or sequential requirement.
The meeting will include the usual instant gallery (1 item limit) and critique, raffle and access to the WGNC book and video library. Please come join us Thursday evening at 6:30pm at the NC State Craft Center! Free parking is adjacent to the Craft Center in the parking structure. Note the early start to give this professional demonstrator a bit more time.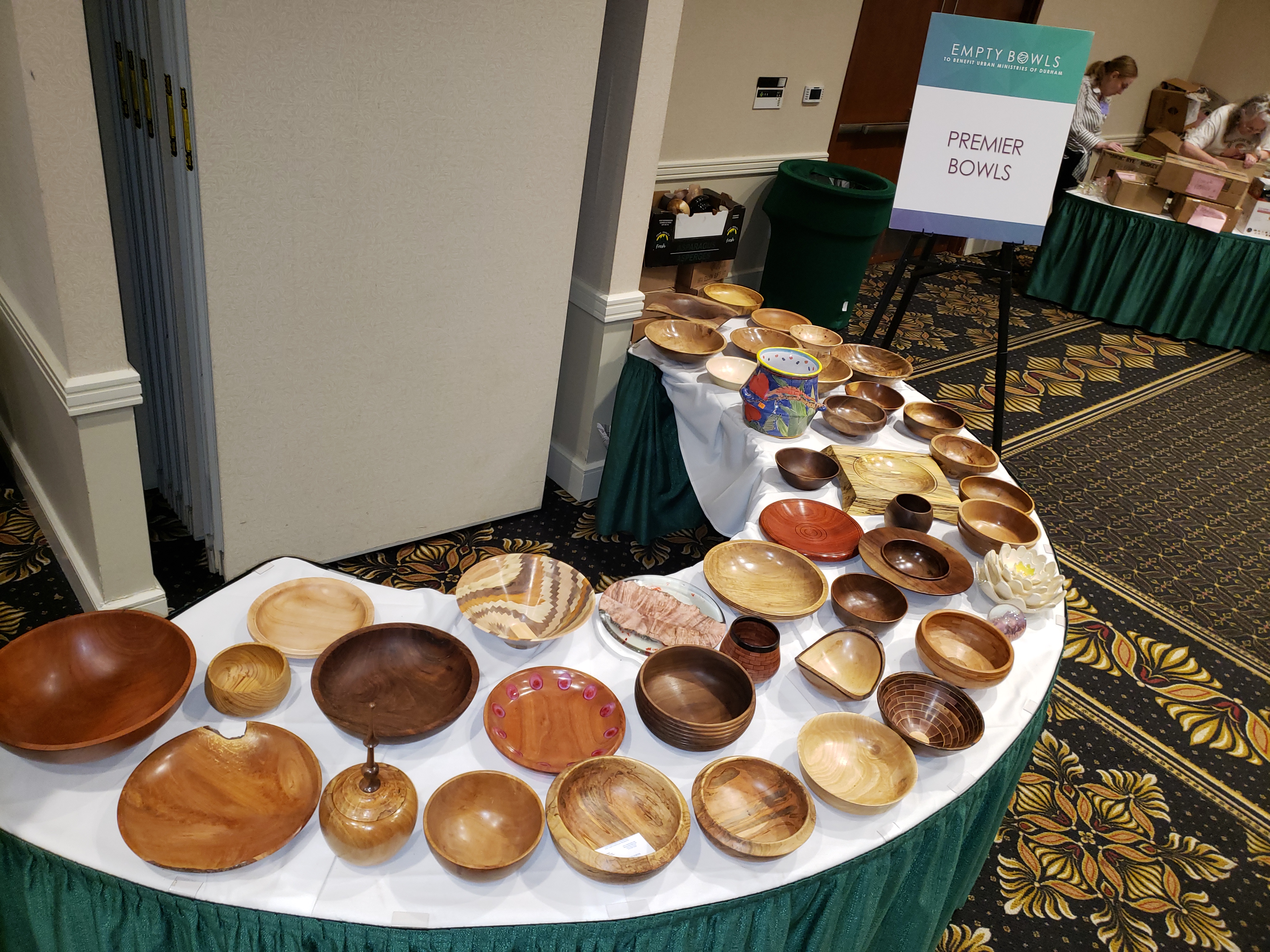 Empty Bowls 2020 to benefit Urban Ministries of Durham was held on March 5 at the Durham Convention Center and WGNC was a big part of it's success this year.
The event drew more than 700 attendees this year, and the Woodturners Guild of North Carolina contributed more than fifty bowls to the event. And well more than half of those were selected for the "Premier Table" where special ticket holders were able to select from higher end bowls.
Planning ahead for 2020:
Mar 12-15: Barbara Dill demo & Workshops
Apr 9: Steve Criscenzo: Router magic
May 14: Annual Tips, jigs and tricks meeting
Jun 11:
Jul 9:
Aug: 13
Sep: 10
Oct 8-11: Al Stirt demo & Workshops
Nov 12: Small-project round-robin demo
If you have an idea for a demonstration -- or demonstrator --  you would like to see, please email This email address is being protected from spambots. You need JavaScript enabled to view it. with your suggestions.
It's that time of year again. Please join us for another year of learning, sharing and camaraderie with fellow turners.
Dues are $50 by check and cash or a couple of bucks more online to cover processing fees.
By Mail: Send a check to Bob Reuss at 3922 Lake Ferry Drive, Raleigh NC 27606.
By Cash: See Bob at the monthly meeting
By Card: See Bob at the monthly meeting or use this online link
We have a great 2020 planned so don't miss out!