Deprecated: Array and string offset access syntax with curly braces is deprecated in /home/gozy/public_html/www.woodturnersguild.com/libraries/idna_convert/idna_convert.class.php on line 421

Deprecated: Array and string offset access syntax with curly braces is deprecated in /home/gozy/public_html/www.woodturnersguild.com/libraries/idna_convert/idna_convert.class.php on line 435

Deprecated: Array and string offset access syntax with curly braces is deprecated in /home/gozy/public_html/www.woodturnersguild.com/libraries/idna_convert/idna_convert.class.php on line 826

Deprecated: Array and string offset access syntax with curly braces is deprecated in /home/gozy/public_html/www.woodturnersguild.com/libraries/idna_convert/idna_convert.class.php on line 957

News
Details

Category: Member News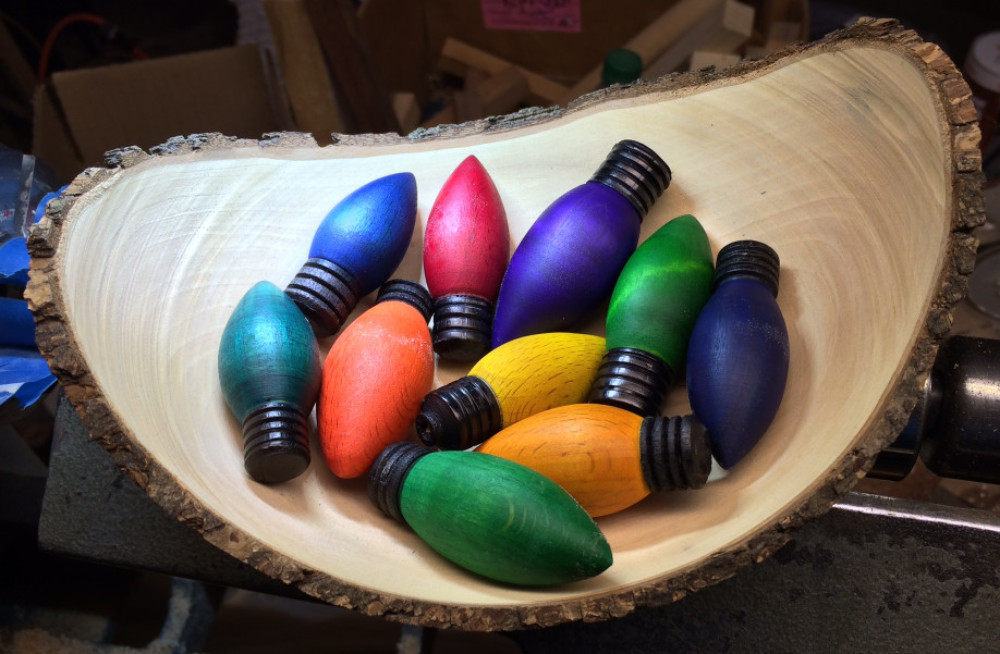 The club will hold it's annual holiday party instead of our regular meeting this Thursday, 12/14, starting at 7pm in the NC State Crafts Center main entry area.

There will be no demo, gallery or raffle this month -- just food and fun for all including a gift exchange.
For each turned piece you bring to the exchange, you will have the opportunity to pick one up from your fellow woodturners.

Members and guests are welcome to attend the party, and we encourage everyone to bring a side dish or desert to share with the group. The club will furnish turkey, ham and condiments as well as cutlery, plates and napkins and soft drinks.
Details

Category: Member News
That massive summer arts event in Cary is once again upon us, and WGNC needs your help to staff our booth for almost two full days, Aug. 26 & 27.
The event, Cary Lazy Daze, is again slated for all day Saturday and Sunday afternoon, with hundreds of artisans and vendors with booths lining the street of downtown Cary.
WGNC will be there with a double tent and a mini lathe running constant live demos and showing off our members' works. If you would like to participate, we are looking to fill 16 two-hour shifts for demonstrators and greeters, not to mention help with setting up and breaking down our display. Please check out the openings and register to volunteer your time here.
Details

Category: Member News
The board is working to provide better long-term planning for the monthly gatherings, lining up demonstrators well in advance so you can plan ahead to attend as much as possible.
For the rest of 2016, we have the following scheduled:
Nov. 10: Bob Reuss, TBD
Dec. 8: Holiday party
The schedule is subject to change, but planning is critical to coordinating these sessions.
Details

Category: Member News
As the new year begins we are looking for volunteers to host Breakout Sessions. Hosting a Breakout is a great way to spend a few hours or a whole day and to help support our club.
The host chooses the topic, day and time, so if you have a particular technique, turning interest or would like to just host an open turning session with other turners for a few hours it would be much appreciated. Hosting is open to all skill levels so don't be shy about volunteering. Some topics to consider are, spindle & bowl turning, proper tool technique, shop safety, wood selection, finishing/embellishing, sanding, design, pens, boxes, shop lighting ,dust collection and the list goes on and on.
Details

Category: Member News
Please help to fill empty bowls with hope for the Durham community by contributing to the annual Empty Bowls to Benefit Urban Ministries of Durham.
The March 3 benefit is the signature event for the downtown non-profit agency that provides emergency food, clothing and shelter to our neighbors in need and helps those who are homeless secure a home.
Attendees at at the Durham Convention Center get to sample soups from some of Durham's finest restaurants, but that is only half the story. Local artists and artisans donate their talents to create hand-crafted bowls for attendees to select and take home.
This is where the Woodturners Guild of North Carolina can help. Providing over 800 hand crafted bowls is a tremendous challenge and the event organizers have reached out to WGNC to help by providing bowls for the event.