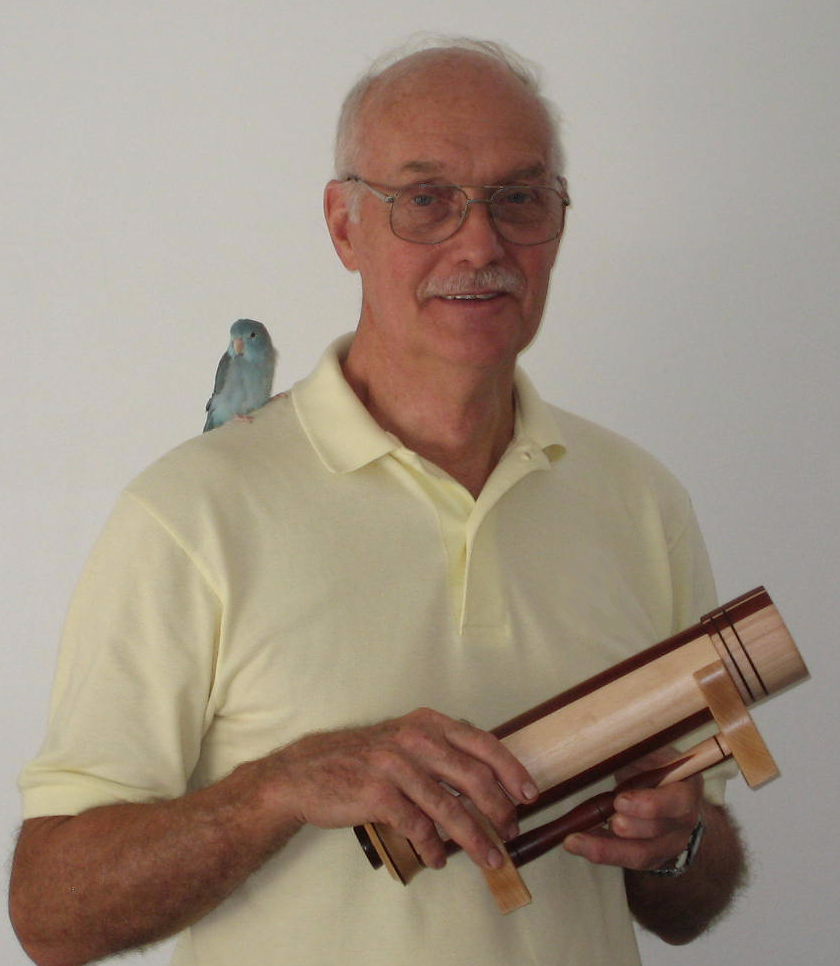 WGNC member and inventor Jim Duxbury will be our demonstrator at the April 13 meeting of the guild, sharing the secrets behind his latest creation called "Illusions."
Jim is the kind of guy who thinks "out of the box." His turnings are unique and he seldom turns the same thing twice. With the help of his pet parrotlet, "Bean" creativity abounds - all sorts of fine turnings are made from small bottle stoppers to bowls, bud vases, trays, furniture, kaleidoscopes, turned wooden hats, pens, and even a working Foucault Pendulum. Jim's kaleidoscopes are a signature item, custom designed and the recipient of numerous blue ribbons. Although Jim quit working in 1996 and has claimed to be retired, he has since obtained two U. S. Patents.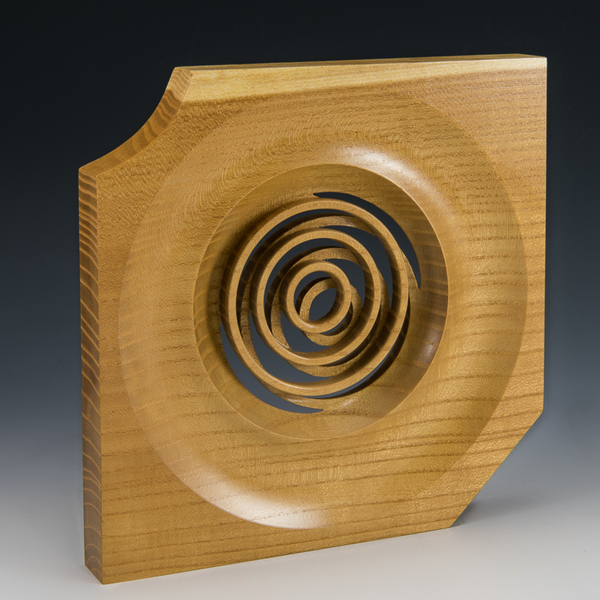 The 7pm meeting will again be at the NC State Crafts Center in Raleigh, and include a member raffle, instant gallery and critique. Members are invited to bring up to 3 pieces to be photographed and critiqued in the gallery.
Illusions --- This decorative four-center turning reveals the basics of much more complicated and fascinating possibilities. The illusions are all turned on a faceplate with a minimal number of tools and expense. Designs can be the same cuts on both sides, just offset as shown here, or a more complicated design can be achieved with 12 or more centers involved. Smaller versions can be turned on mini lathes making it is an excellent project for a novice turner to hone skills. The more detailed pieces are drawn first to get precision and accuracy.
A perfectionist known for "thinking out of the box," Jim prides himself in creating wooden items of beauty that also are designed to function well. His fascination with wood and wood grains, from the most exotic to the common native varieties, and his ability to employ the wood lathe and adapt tools, lead to experiments of new and exciting ideas. Prototypes abound. He admires creativity and has a keen appreciation for wood as a natural media.
"My woodturnings and kaleidoscopes are distinctive fine artistic pieces that have won awards and accolades for not only their elegant quality but for their uniqueness of design which sets them apart from other turned wooden objects," Jim writes.
The inventor of particulate dust respirators, his company, DUXTERITY LLC, markets the Resp-O-Rator™, and Elegant Creations, his gallery of fine wooden objects, including Kaleidoscope Plans, Kaleidoscope Building DVD, and custom wooden Kaleidoscopes. http://www.duxterity.com/ec