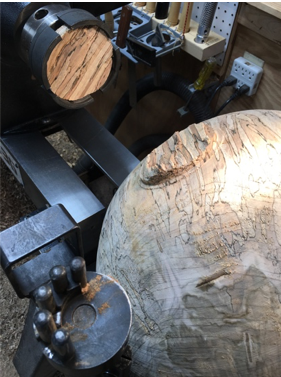 The April 11, 2019 meeting of the Woodturners Guild of North Carolina will offer two opportunities for hands-on participation from our membership.
The meeting will open at 6:45 pm with our annual "Tip, Tricks and Jigs" presentation. Do you have or do something unique that you want to share with others? Maybe it is a special tool or tip that makes things a bit easier, or a technique for handling wood. Members are encouraged to present anything that relates to turning that may help others to be better turners.
Not something you can bring to the meeting? No problem; just email a photo or two to This email address is being protected from spambots. You need JavaScript enabled to view it. -- by April 10 -- and we will project it on the screen. Please limit your presentation to three items and under five minutes.
Then after a short break, and in response to membership requests for a more in-depth gallery discussion, we will commence with "Show and Tell your Challenge".
Do you have a piece that was a challenge or still is a challenge you haven't quite conquered? We invite you to bring one challenging piece to the meeting to present to the membership. You will have an opportunity to discuss what challenges you faced or still have with the creation of the piece. This will give you the opportunity to engage in a Q&A with members and provide or get new ideas to the challenges.
This meeting will be an excellent opportunity for you to share your experiences and learn from the experience of others. Please plan to attend and participate.
Please note that starting time for general membership meetings is 6:45 PM.