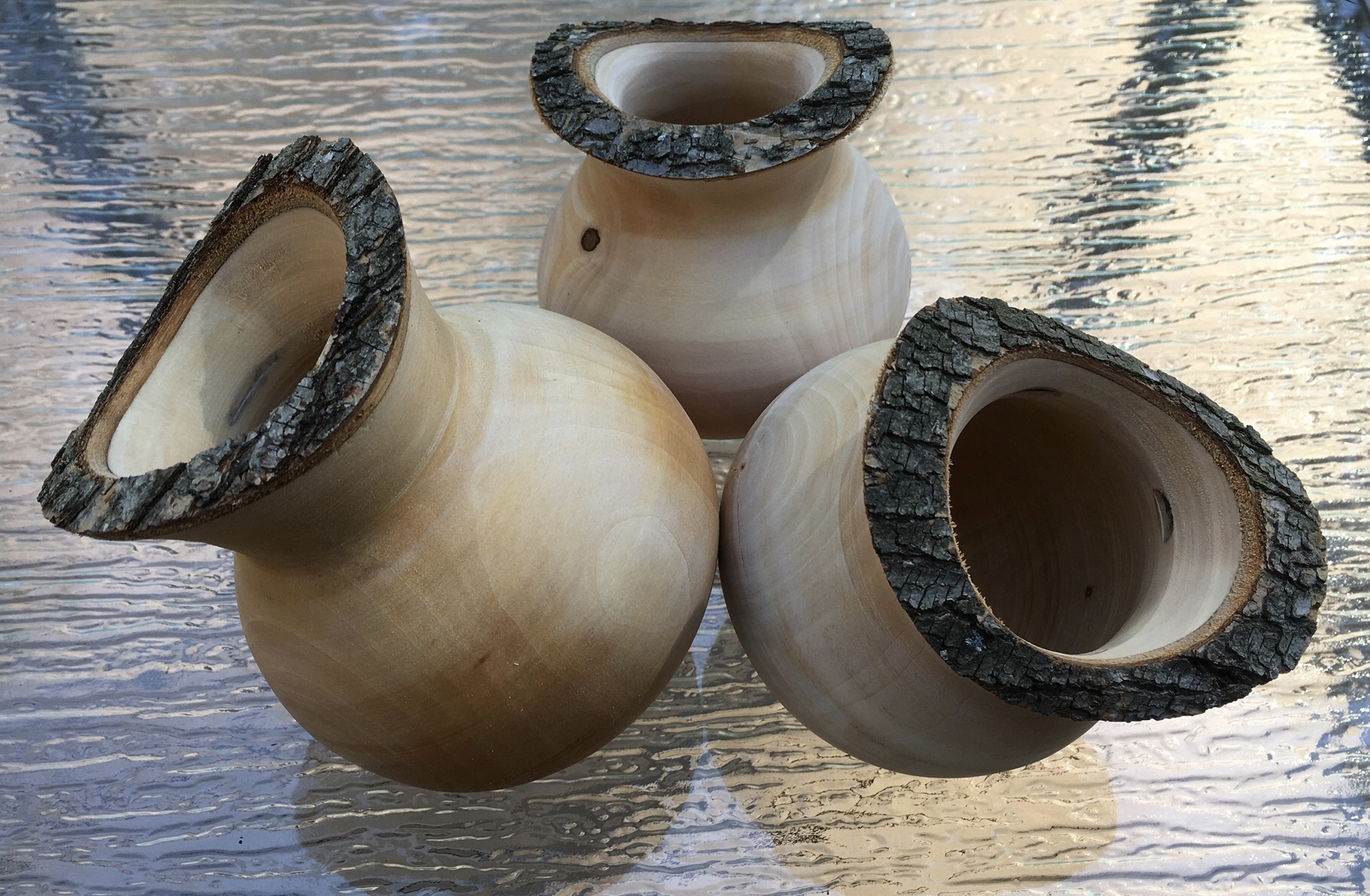 Do you have mini lathe and find it a challenge to create interesting or attractive pieces that sell? Then you should find this session very interesting even if you have a larger lathe. WGNC member and former president Norm Cloutier will demonstrate his take on the bird's mouth bowl and share ideas and methods for many other small projects at the June 13 meeting in the NCSU Crafts Center.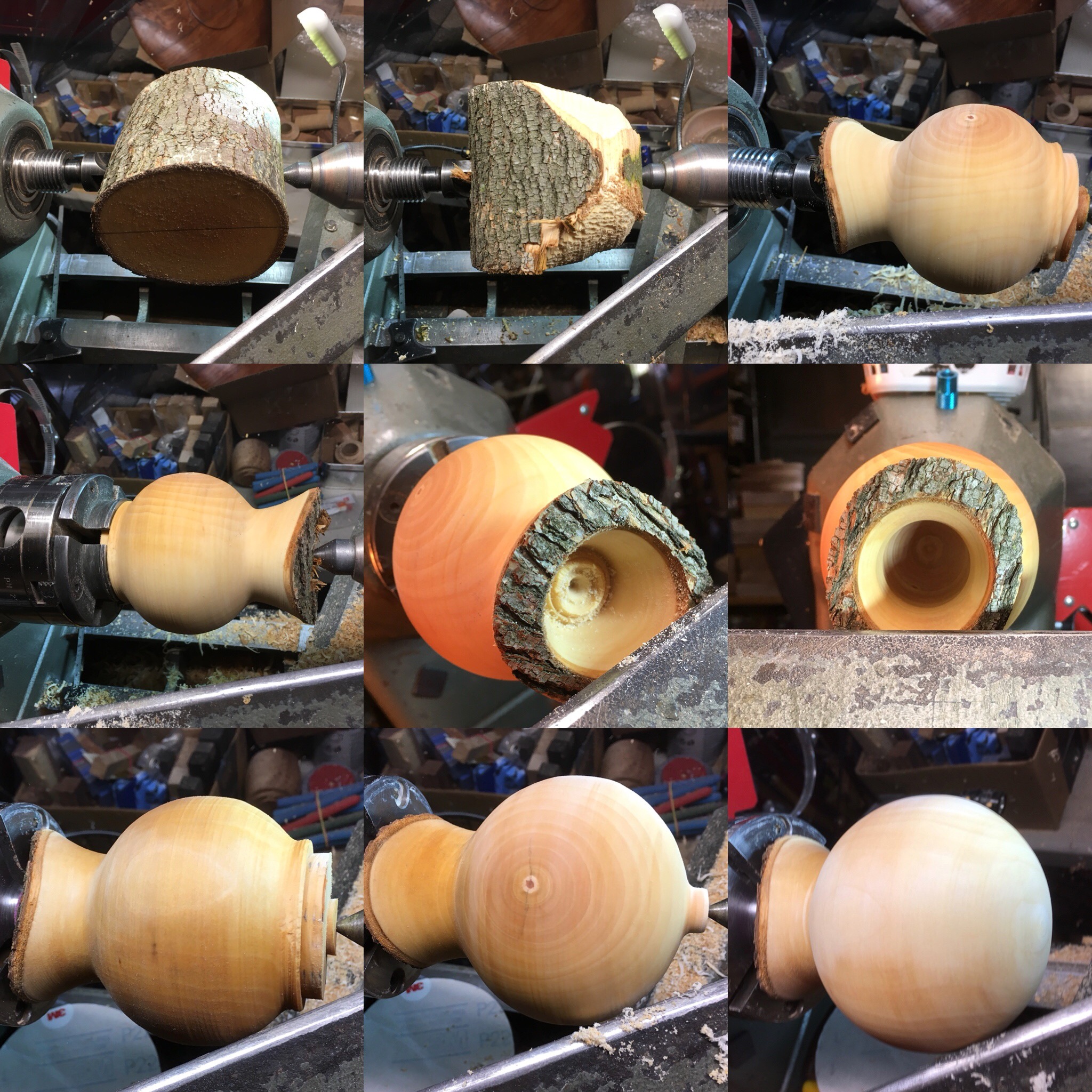 As woodturners we are always on the lookout for big logs or larger chunks of recently felled trees, but even smaller branches can yield some interesting projects. Logs as narrow as 4-6 inches can be used for small projects like goblets or simple vases, provided you accept or deal with the drying process and likelihood of cracks at the pith.
The "bird's mouth" bowl is named for the way the bark-edge lip is used to create a form reminiscent of a baby bird reaching up for food from a parent. While it can be done with almost any wood, a log segment from a fruit or nut tree tends to hold it's bark better than others. Norm's take includes using a round bottom for a more whimsical completed piece and a few other marketing tips.
Norm has been turning wood as a part-time passion for just over a decade. He's a local woodturning instructor, demoing and showing at local events, and is active in the WoodturnersGuild of North Carolina. Find and follow him as WeekendTurner on Instagram or Facebook.
After the break, Norm will show various fixtures and methods he uses for numerous projects that are perfect for the typical mini lathe. While his primary lathe is a mid-range Nova DVR, Norm spends a good deal of time teaching and doing public demos at area farm and art markets, promoting the club from behind our portable Rikon lathe.
Between teaching beginners and watching the crowds at the various events, Norm has picked up a few things he will share at the meeting.
"It's tricky to find the items that fit all the criteria: Small enough for a mini lathe, inexpensive enough to sell at a farmer's market, easy enough to complete within about an hour, attractive enough to catch someone's interest."
It's great to sell the occasional big bowl/platter/hollow form, but for local markets it's important to have a good variety of lower-end items on hand to help attract interest and perhaps lead to a relationship that could bring future, larger sales.
"I've had some success with certain items; others don't sell well enough to cover the costs or effort. A few, like the kaleidoscopes and back scratchers, start with inexpensive versions of components I hunt down on eBay, Amazon or Alibaba."
Among the smaller items Norm will discuss and explain (but not demo) are:
One-hand pepper mills,
Back scratchers,
Jewelry pendants & rings
Hinged jewelry boxes
Pewter lid bowls
Kitchen ware spoons/spatulas
Kaleidoscopes
Fidget spinners
Birdhouse ornaments
Tape measures
Fridge magnets
While this will be Norm's first club demo, he has been teaching beginner and intermediate turning classes for the last six years at places like the Cary Arts Center and NCSU. He has been turning as a hobby for about 11 years and has formally taught basic skills to more than a hundred beginners.
The meeting begins at 6:45 in the NC State Crafts Center and will include the usual instant gallery (2 items) and critique, a raffle, and access to the WGNC book and video library.