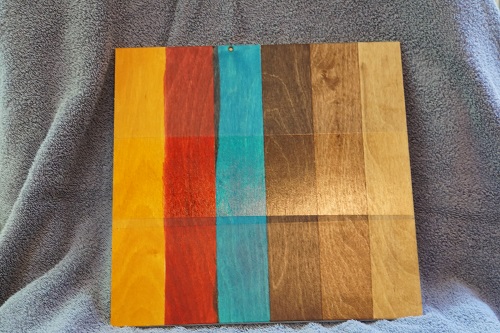 Finishes and dyes was one of the most requested demonstrations in the membership survey conducted earlier in the year. In response we are pleased to present a discussion of finishes led by our own Jeffrey Danneman.
Get Jeffrey's slide presentation.
Jeffrey will share the expertise gleaned from a 40+ year career as a coatings chemist to provide a plain English description of film formation of the common polymers used in wood finishing.
Those will be related to the performance of these various finishes as shown in a series of display panels. Performance includes resistance to stains, water, scuff and chemicals. The discussion will continue with color and gloss.
A series of display pieces will demonstrate dye, stain, penetrating and high-build finishes. Long-term color stability of both the wood and finishes are discussed. Decision guides are offered to tie together performance and appearance. Questions are welcome throughout the presentation.
The meeting begins at 6:45 in the NC State Crafts Center and will include the usual instant gallery (2 items) and critique, a raffle, and access to the WGNC book and video library.