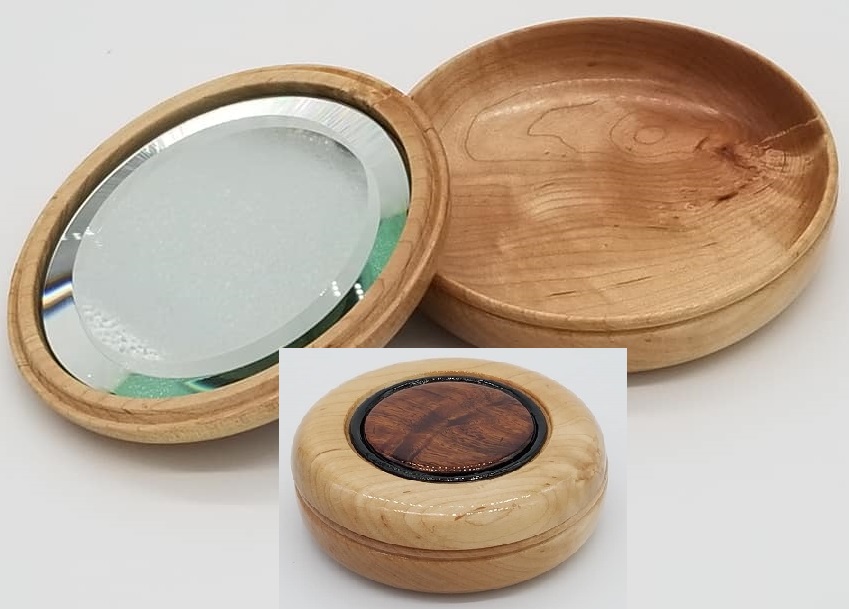 WGNC is very happy to have member Richard Cook demonstrate a side-grained box at the Feb. 13 meeting of the Woodturners Guild of North Carolina.
As opposed to small boxes that are turned end grain, Richard will turn a side-grained box from lumber that is easily found at your supplier in 8/4 - 12/4 thicknesses (2"-3"). His design utilizes cut away material that normally would be considered waste. As an example, when band sawing raw material for larger bowls and platters wedges are created which are perfect for these smaller projects.
His current design utilizes hard maple which cuts cleanly and incorporates a small round beveled mirror in the lid and a prepared wooden medallion glued to the top. Some beads will be added to outline the medallion and lid to further embellish the finished box. Richard will demonstrate various chucks and jaws as well as spur drives to hold the work and will discuss various choices in finishing the box.
The meeting will include the usual instant gallery (2 item limit) and critique, raffle and access to the WGNC book and video library. Please come join us Thursday evening at 6:45pm at the NC State Craft Center! Free parking is adjacent to the Craft Center in the parking structure.
Richard began woodturning in 1964 when his Dad was given an old lathe from a friend. Back then he experimented with spindle turning, candlesticks, lamps and the like, for lack of knowing more. His tools were a set of old carbon steel Craftsman chisels. Then in 1978 he really began to turn, but this time on a 12" Atlas metal lathe. Turning mostly metals and plastics, he created laboratory equipment. It wasn't until 2005 that he refurbished the old Craftsman style lathe and begin learning the art of woodturning. Not long after, he joined WGNC where he has been a member for 5 years.
Richard is also on the WGNC Board where he coordinates breakout sessions.