British born woodturning master Michael Gibson will be coming to WGNC in October to demonstrate for the club and offer two days of hands-on workshops Oct. 11 and 12. While his Oct. 10 demo will be on the teapots for which he is best known, the workshops will be of more general woodturning interest. See the descriptions below and follow the links to reserve your seats while they last. Only 10 slots are available each day for $100.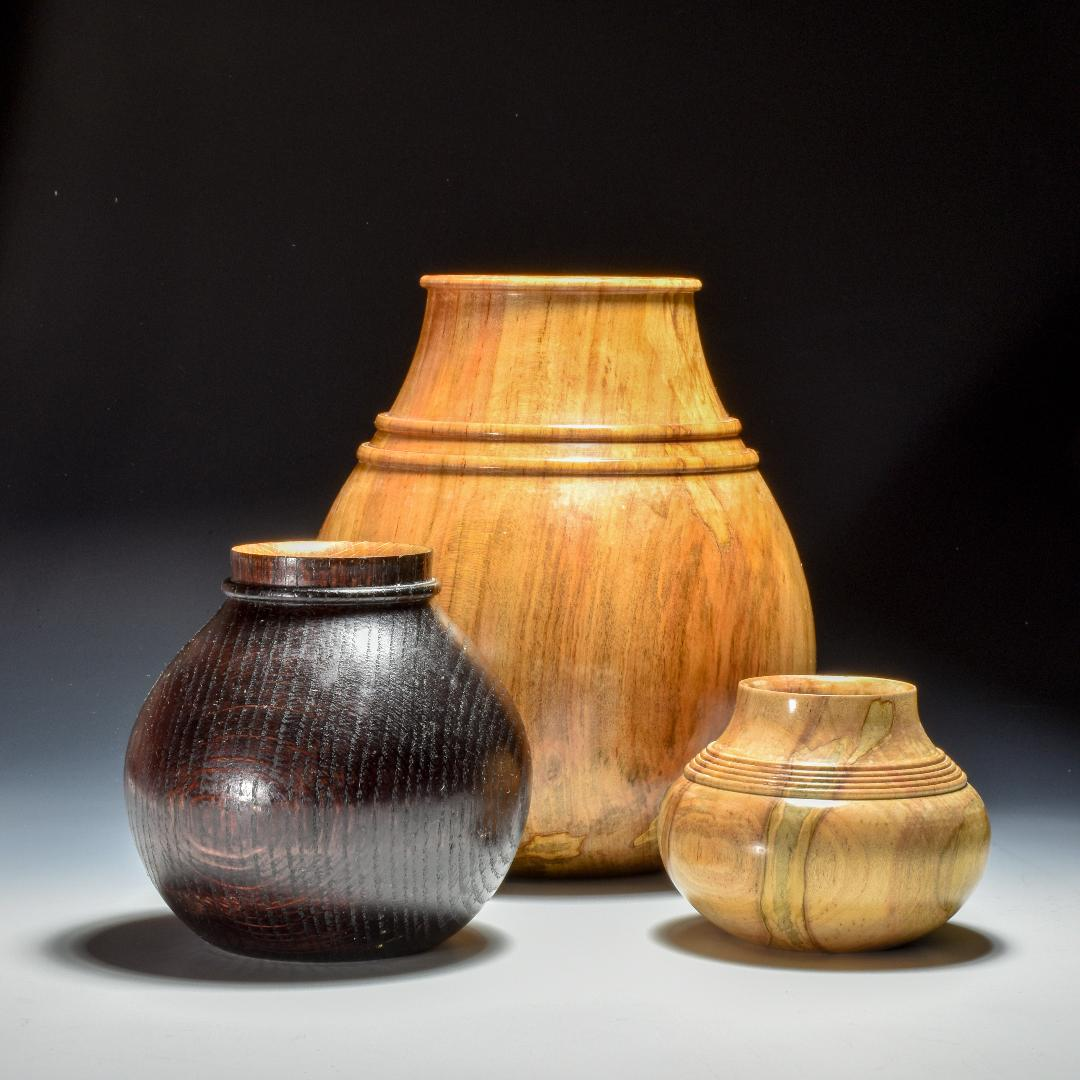 Friday Workshop: Great Form and How to Achieve it!
Do you struggle knowing what to do in creating a successful piece? "Focusing on the ideal version of something is one of the most useful thought exercises we can generate." (Plato)
Beginning turners tend to focus more on technique rather than design, shape, or form. But to progress in your craft, you must at some point start to incorporate design and combine this with your skills and techniques to create a successful piece and become a true craftsman. But how do you move from your idea to a vision and create a finished piece? Woodturning is a never-ending learning process, and in this workshop, we will show you how to transform your ideas into reality! This will trigger new ideas and get you thinking about other possibilities that you may not have thought of before.
We will look at design elements like "negative space," barriers that get in your way of creation, how to get unstuck when you are at a loss, where to get inspiration, and finding your own style.
You will start by creating a form of your own so the whole class can critique the different shapes that are produced. Later in the class you will copy a form that Michael creates. This workshop is an opportunity to allow our brains to take ideas, evaluate and refine them, create a vision, and start to make something great. Join us for this workshop and learn how to transform your ideas into successful forms. You won't regret it!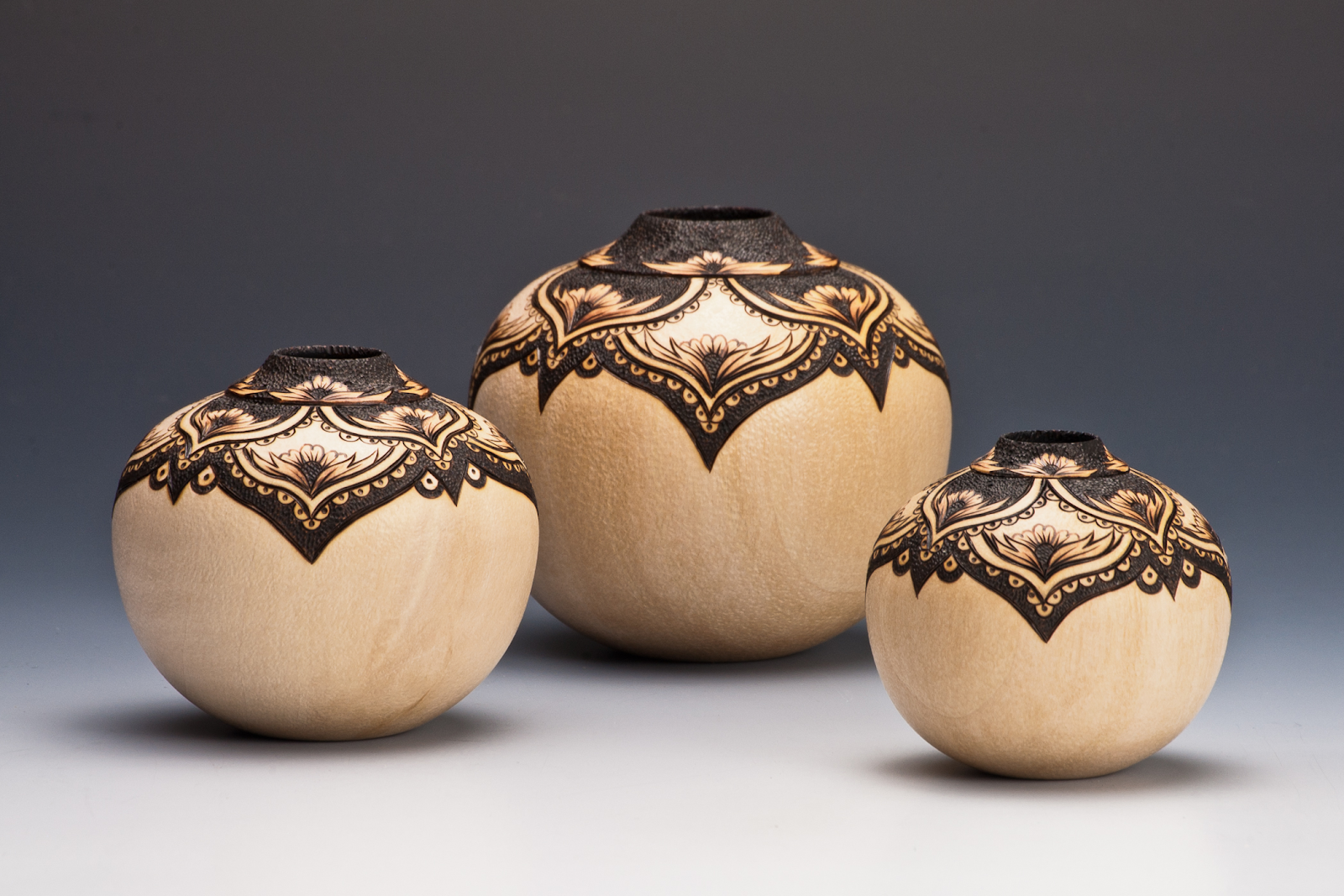 Saturday Workshop: Embellishment and Finishes
Come and learn to enhance your work! Learn to take what might be a simple bowl or hollow form and enhance it with creative embellishments. We will look at different designs and layouts for turned pieces, and then the methods for creating embellished and textured surfaces on these pieces.
We will start by turning a piece on the lathe and then select a design and layout to be applied. We will then utilize pyro and power rotary tools to practice and create our designs. Lastly we will look at a few options for finishes and apply one.
Michael will also do a demonstration on piercing using a high speed rotary tool (NSK). Note: We will have some pyro and rotary tools available however bring along any you have to get additional guidance and usage techniques.
About Michael Gibson
In his early years growing up in England, Michael worked on wooden sailing yachts along the banks of the River Crouch. He moved to the US in the eighties. Working with wood all of his life, Michael was always interested in woodturning and studied for many years to perfect his craft. What began as a hobby blossomed into a passion. He has gained international recognition for his teapots.
Michael was a featured demonstrator at the American Association of Woodturners International Symposium in 2013 and received high honors as recipients of the "Award of Excellence" for one of his pieces. At the 2015 International Symposium he was awarded "Master Choice" in the Merging Exhibition. He demonstrated at the 2016 AAW International Symposium in Atlanta, and was awarded "Peoples Choice" for his piece in the exhibition. Michael was accepted into the PoP Exhibition, Traces, at this years 2019 AAW symposium in Raleigh.
Michael has demonstrated for numerous chapters of the AAW and have been feature demonstrator in several States symposiums.
Michael is in high demand as a teacher and his wonderful techniques are taught to students from around the world. During the last several years he has taught in Canada, Norway, England, Turkey, and New Zealand as well as throughout the United States. He has taught in workshops, chapter classrooms and in private settings. His work has been published in many journals nationally and internationally.
The artwork created has garnered the attention of many collectors and has been included in corporate and private collections. His work is sought after by high end galleries and gift shops throughout the world. For more info visit Michael's website.