Happy New Year to All! To start off 2019, what is more fitting than adding to your library. Please find below, introductions to three new books for your reading pleasure. These new additions will be available at the January 2019 meeting.
Come check them out.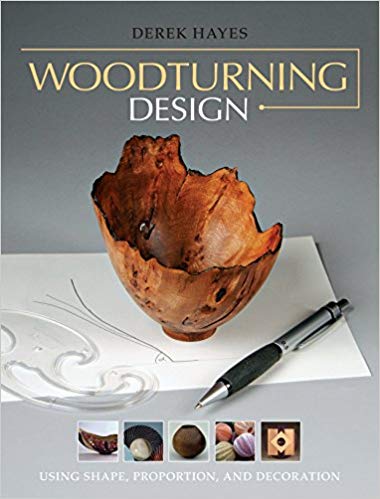 Woodturning Design by Derek Hayes:
Artful inspiration. If you ever wondered how accomplished turners uncover the designs concealed within raw wood, you'll find the answers – and so much more in Woodturning Design. This handsome book offers a revealing look into the design process that will inspire, guide, and perhaps forever change the way you see the potential within a piece of wood.
Practical instruction and expert insights. Follow author Derek Hayes through the design process, which comes to life for you, step-by-step, in 300 full-color photos and hundreds of instructive illustrations. Begin developing your design sense with a clear understanding of basic principles and move on to explore proportion, pattern, and form.
Transform your own work. Rather than copying the work of others, this idea-filled book provides you with a myriad of possibilities for expressing your own creativity. From unique techniques for treating wood to adding color and decorative touches, you'll learn how to create your own one-of-a-kind turned pieces.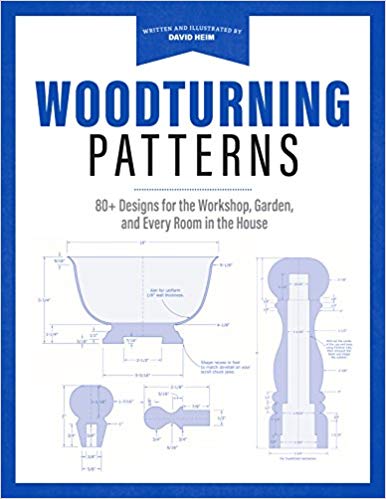 Woodturning Patterns by David Heim:
This one-of-a-kind book is an essential resource for beginning woodturners as well as people who have spent many hours at the lathe. It provides 70 patterns for a wide range of woodturning projects―from bottle stoppers, chopsticks and salad bowls to holiday ornaments, drawer knobs, tool handles, and candlesticks. Every pattern includes all the measurements you need to turn the piece, as well as a drawing to show you how the finished piece will look. The text also provides basic woodturning lessons and offers helpful tips on woods and finishes to use, advice on how to turn a piece successfully, and background on some legendary woodturners and other artisans whose work inspired several patterns.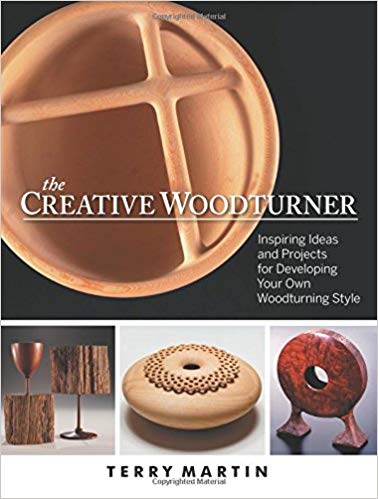 The Creative Woodturner by Terry Martin:
The Creative Woodturner is not your usual "how-to" woodturning book. It won't tell you what a chuck is, how to sharpen a scraper, or how to turn a goblet. Instead, this book is a "how-to" for unlocking curiosity, how to break the rules, and for following one's own artistic path with confidence.
Designed to give readers a wide perspective on creativity, The Creative Woodturner begins first with insightful commentary, quotes, and examples from the woodturning and art community that will both inspire and inform. In addition, the author shares his Idea Tools: questions to ask during the planning and creative process that are as important to the creation of the woodturning project as any equipment in the shop.
Finally, 16 one-of-a-kind projects – from boxes and vessles to bowls and one-of-a-kind sculptures – are featured that will spark the creative mindset of any woodturner. Each project is documented with instructions and crisp photography highlighting the key steps, techniques, and tasks necessary for completion. In taking the reader through each project, the author pulls back the curtain on his woodturning magic and shares his vision and how the Idea Tools and creative thinking emerges in each project.
An inspiring and enjoyable read not only for woodturners, but for any artist, The Creative Woodturner will anyone to think and see differently so time is spent at the lathe – or whatever creative pursuit it is -- creating the original ideas instead of imitating someone else.