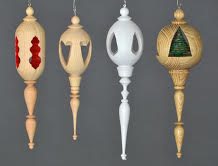 We are pleased to present John Lucas as our featured demonstrator for September 2016. John will show his unique methods for inside-out turning at our regular club meeting on September 8, 2016 at 6:30 PM (30 minutes earlier than usual).
John will also lead a day long class in making hand mirrors on Friday September 9, 2016 starting at 9:00 AM at the Raleigh Woodcraft Store.
Inside-out turning is a process where you glue 4 pieces together and turn the inside. These are cut apart reversed and glued back together. The outside can then be turned. This process leaves a silhouette or hole in all 4 sides. John has taken inside-out turning to a new level with several unique methods yielding some very interesting results. The club meeting is free to all members.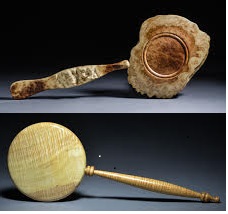 Hand mirrors are one of John Lucas' signature pieces. His mirrors have received national acclaim and are true works of art. In the full-day hands-on class, John will demonstrate how to turn a mirror with a handle.
The project includes both platter turning and spindle turning since the mirror body is just a small platter and the handle is a spindle. John is also a master of tool control and surface effects. In the demo he will discuss different ways to use the cutting edges of the tools as well as the use of the skew.
The registration fee for the hand mirror class is $100 ($105 online). The registration fee includes the materials to make one hand mirror.
Click here to pay for and reserve your spot, or see Steve Criscenzo at the meeting.