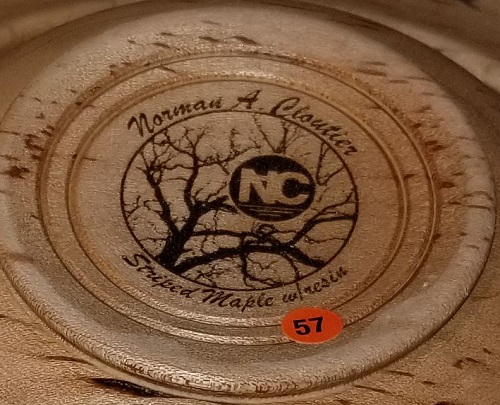 WGNC members Norm Cloutier and Gene Presson will hold a breakout session next Saturday, June 23, to share what they've learned about using low-powered laser engraving tools to sign your work.
The meeting will be in our usual space at the NCSU Craft Center and run from 10:30 am to about 12:30.
Norm and Gene have invested some time and money into getting these low-end versions of laser engravers -- devices that usually cost tens of thousands of dollars -- to work for woodturning artists and hobbyists. These devices can be purchased on Amazon and eBay for prices ranging from about $100 to $250 and come with software needed to use them with your Windows PC.
While the larger versions can engrave or even cut wood across large dimensions in a relatively short time, these 2-watt versions are limited in both power and work area, not to mention speed.
Norm and Gene will bring in their different devices and software and show members how the tools can be used to burn images and text into your work.
If you have a simple logo or image in jpg or gif format, bring it along on a USB drive and we will attempt to burn it or at least show you how to best modify it for burning. Given the time the burning process takes we will not be able to do many pieces; the intent is to show you enough to determine if this is something you want to try on your own. You do need to be comfortable using the computer and willing to work with software that is literally foreign and often far from intuitive.
Please email wgnc@ncturning if you are planning to attend.