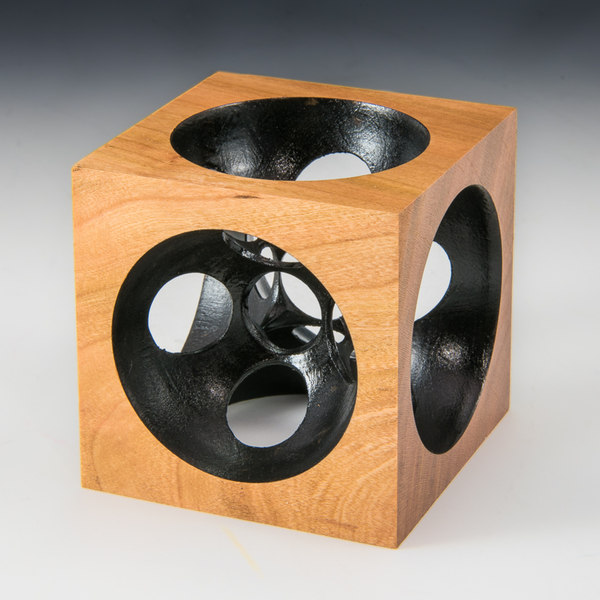 WGNC is pleased to welcome Jim Duxbury as our featured demonstrator for the March 14 monthly meeting. The meeting starting time is 6:45 PM. This was originally scheduled for September but was cancelled due to a hurricane threat.
Jim's demonstration is titled Intersecting Spheres. Quoting Jim, "this demonstration is based on the geometric principals --- if two spheres of any size intersect each other the plane of intersection will be a perfect circle.
The demonstration will show details on how to layout all six equal sized spheres on any sized cube so that they intersect exactly to make the small open circles. Details to make the template that will be used to guide the cutting of each of the intersecting spheres will be shown.
When completed, highlights and accents can be added if so desired. These cubes have even been decorated and hung for unique, interesting Christmas ornaments or just as a conversation piece.
Variations in design will also be shown and explained. Caution, turning intersecting spheres can become addictive.
Jim Duxbury, woodturner and inventor, is the kind of guy who thinks and creates "out of the box." His turnings are unique and he seldom turns the same thing twice. With the help of his pet parrotlet, "Bean" creativity abounds - all sorts of fine turnings are made from small bottle stoppers to bowls, bud vases, trays, furniture, kaleidoscopes, turned wooden hats, pens, and even a working Foucault Pendulum.
Jim's kaleidoscopes are a signature item, custom designed and the recipient of numerous blue ribbons. Although Jim quit working in 1996 and has claimed to be retired, he has since obtained two U. S. Patents.
The inventor of particulate dust respirators, his company, DUXTERITY LLC, markets the Resp-O-Rator™, and Elegant Creations, his gallery of fine wooden objects, including Kaleidoscope Plans, Kaleidoscope Building DVD, and custom wooden Kaleidoscopes. WGNC is honored to have Jim Duxbury once again inspire us with his unique creative talents.