The March 12 membership meeting and workshops have been canceled. We are taking this step due to concerns related to the Coronavirus.
Workshop fees have been refunded to the credit card used to make the purchase.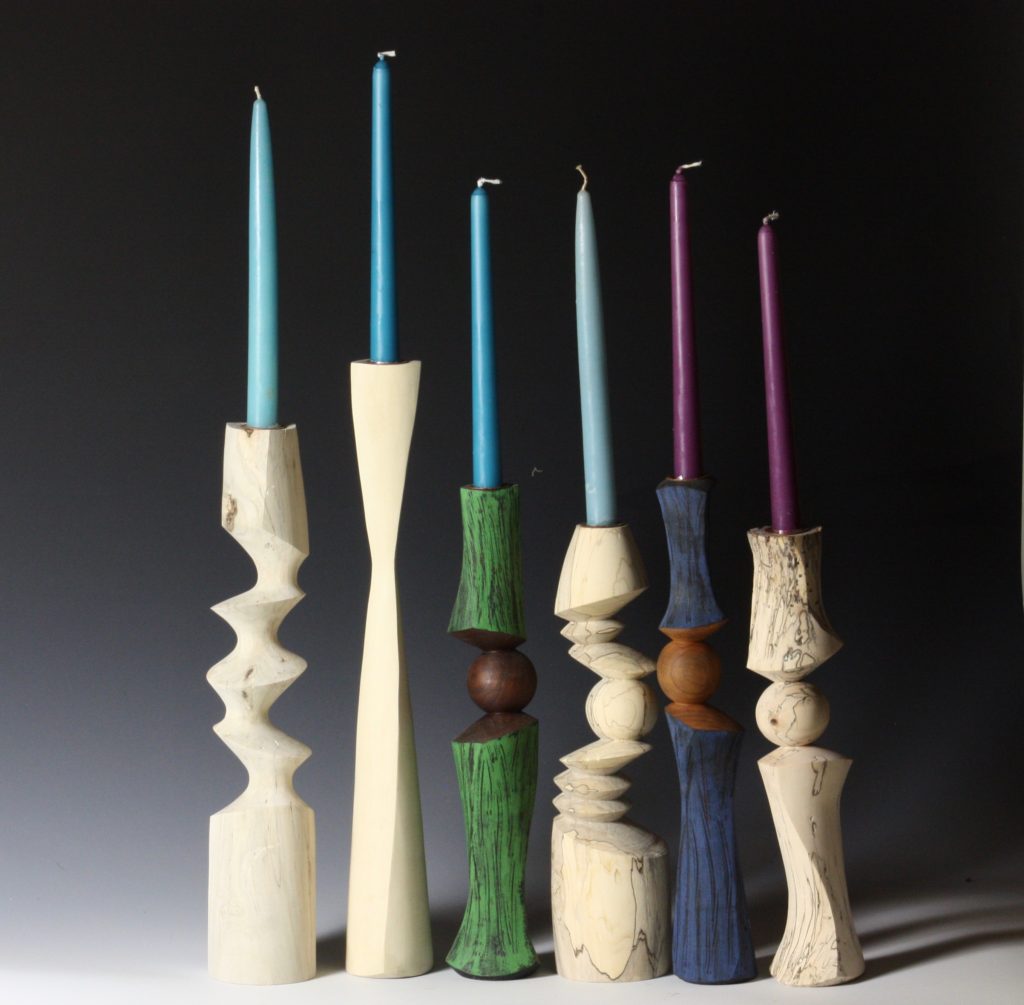 WGNC is very excited to have renowned multi-axis turner Barbara Dill for our March 12 meeting -- and three days of workshops -- in 2020. Come join us to welcome Barbara while she demonstrates everything you ever wanted to know about multi-axis spindles! She will discuss from start to finish the design process she uses to create these unique and artistic pieces.
Some of us have explored this area of turning by randomly changing the axes and discovering what happens. In this demo you will learn how to systematically explore multi-axis turning. We will look at the difference between parallel and twistedaxes and the two outcomes that can occur when turning a multi axis spindle. Barbara will demonstrate how all the variables can be applied to each axis to create very different designs. Knowing this will enable you to be creative beyond your wildest dreams!
Barbara will also conduct three daylong workshops for us following her demo at the regular club meeting. Member pricing for each workshop is $110, but a special package price of $300 is also available for all three days. Click here to order and reserve your space now. These workshops will not only be great learning opportunities but will also produce some very attractive pieces! Members are welcome to sign up for any number of days; there is no group or sequential requirement.
The meeting will include the usual instant gallery (1 item limit) and critique, raffle and access to the WGNC book and video library. Please come join us Thursday evening at 6:30pm at the NC State Craft Center! Free parking is adjacent to the Craft Center in the parking structure. Note the early start to give this professional demonstrator a bit more time.
Friday, Mar 13
On Friday she will lead us through the systematic approach she has developed for multi-axis turning followed by participants application and practice on the lathe.  Participants will be turning a spindle from each quadrant and then focusing on a spindle that has three axes and is twisted. These are the building blocks for multi axis turning.
Saturday, Mar 14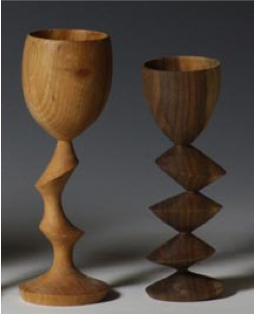 The Saturday workshop will be a continuation of Friday's themes  however you do not need to attend Friday's class in order to participate on Saturday.  On Saturday, participants will continue experimenting with these ideas and creating their own vision of a candle stick or a cup or goblet.
Sunday, Mar 15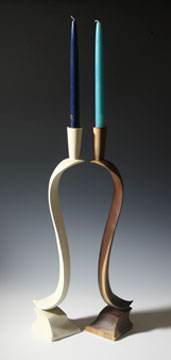 The Sunday workshop will be on split-turning where we will mount multiple pieces of wood at once and turn out multiple objects at the same time.
Barbara Dill Barbara's first experience with carving wood was in 1988 at a carving class in Richmond, VA. Wood became her passion and in 1989 was able to retire from a 21year career in nursing. She first studied woodturning in 1990 at Arrowmont with Michael Hosaluk; then in '91 with Ray Key; then in '92 with David Ellsworth. She has attended symposiums, workshops and demos throughout the years and in 1998 she started teaching beginning woodturning at the Hand Workshop in Richmond (now the Visual Arts Center, 1998-2006).
Barbara was always fascinated with multi axis turning and it became her focus in 2006. Tired of running into dead ends with her candle holders, she decided to see if there was a way to sort out the confusion of this aspect of turning. So, she developed a systematic approach to multi-axis which she now enjoys teaching and sharing. Barbara has made instructional videos which are available on her you tube channel, and has published articles in the American Woodturner. She was an Emerging Artist at the 2011 National Symposium and has demonstrated at SWAT in Texas, the Appalachian Center for Craft, Arrowmont, The Center for Furniture Craftsmanship, and at AAW symposiums, as well as turning clubs in many states and in Canada.
She has recently compiled a book loaded with drawings, photos, and information about multi axis spindle turning that was published in the summer of 2018 and is available in bookstores and on line (Amazon). She now enjoys time in her studio in Rockville, Virginia. "My interest is to experiment with the many forms that can be turned on a lathe between centers." Visit her website at https://www.barbaradill.com/