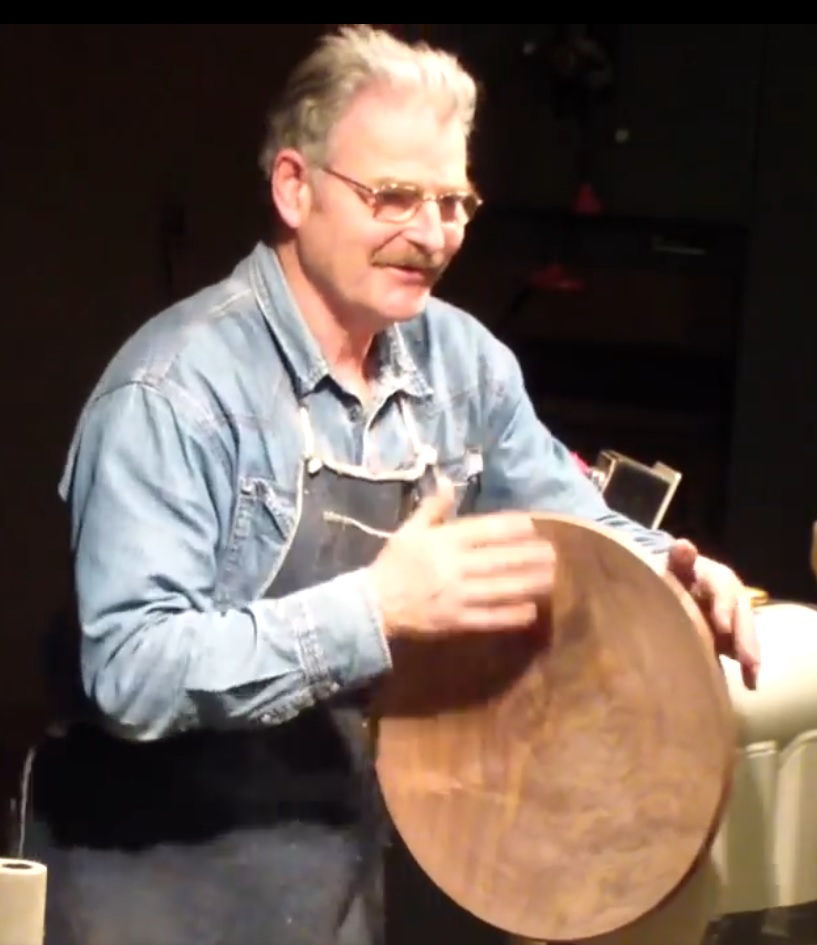 Our first watch party drew up to 30 WGNC members last month, so we're taking lessons learned and trying another this coming Thursday, May 7.
This time we're using a shorter, 1-hour demo video from the great Liam O'Neill, who visited WGNC six years ago almost to the day. We'll show the portion of the meeting where Liam turned a platter from a beautiful piece of walnut crotch, and we'll make a point of stopping at least once during the viewing to discuss his presentation.
We'll also provide links to his opening slideshow and remarks, as well as the second-half demo where he turns a "crooked-grain" box, which members can later view at their leisure.
The Zoom events are part of WGNC's effort to keep our membership active, entertained and informed. On May 14, our regular meeting night, we'll have a live remote demo by Jim Echter, who was in rotation at the AAW symposium last year. The following Thursday (May 21) we will repeat our virtual gallery. Details on these sessions will be coming later here and through our member newsletter.
Our first show was the 2011 demonstration by the late Ray Key. That demo was almost two hours long and there weren't any questions or reasons to pause and interact. This time we've selected a shorter video and will purposefully pause it to seek member input.
Once again, the show will begin Thursday at 7pm.
((Use this link to add the event details to your iOS or Google calendar, otherwise find connection instructions below))
While we could just send out links to these videos for you to binge at your leisure, we're hoping that the watch parties will provide an informal venue for communication among our members. The connection details for this meeting will be sent out in the next newsletter and are posted here.
Attendance and feedback from these first showings will help guide us in determining how frequently we run these watch parties. We have several dozens of these videos, many from top-name instructors. If you would like to suggest a particular meeting/demonstrator from the past decade of WGNC, please email This email address is being protected from spambots. You need JavaScript enabled to view it.
Connection instructions:
From a computer, you can just click on this link: https://us02web.zoom.us/j/83957390145
You do not need a password
- If you've used Zoom before, it will simply connect you directly to the meeting.  If it is your first time using Zoom, there may be a quick download first. Just follow the directions.
- Video will appear on-screen and sound will be through your computer speakers.
- To participate live, you will need a video camera and microphone. Most newer laptops have these built in. You will be able to view the meeting even if you do not have a camera.
From a smart-phone or tablet: First download the Zoom app from your app store.
- Once loaded, clicking the link above should launch the app and open the meeting. If that's not handy, enter meeting ID number 839 5739 0145
Last option: Use your phone.
- If all else fails, you can just dial in to 929-205-6099.  This will give you audio only and we can help you connect.
- Dial-in users will need both meeting ID: 839 5739 0145, and password: WGNC