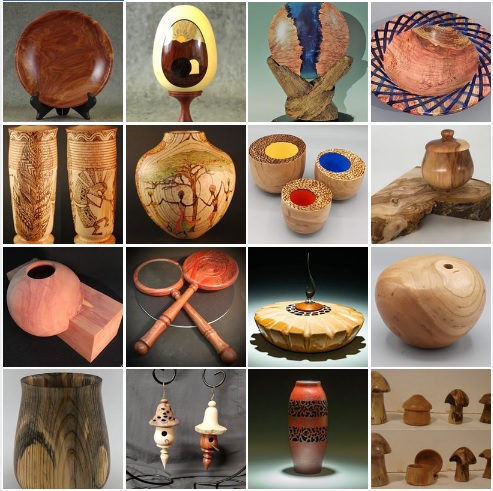 We want to get more members involved in our virtual events, so WGNC is reinventing our monthly gallery as a show & tell, where you can bring your ideas, issues and even shop disasters as well as finished works.
Our first two virtual galleries brought in some seriously amazing work from our members, to the point where we were getting worried some folks might be getting intimidated that their own efforts weren't up to a certain standard.
But we're an inclusive club with members from all walks of turning. Some people don't even have their own lathe yet while others have only been turning for a little more than a year. Still others have been turning for several years but only as a hobby and are still struggling with some basic techniques and concepts.
So beginning with the June 18 "gallery" meeting, we're remaking it a show & tell, where we ask members to send in photos of their challenges as well as successes, photos of works-in-progress, closeup shots of problem areas, etc. In fact, we want you to have the piece(s) with you when you call in, so you can hold them up and further discuss or ask the advice of other members.
And you don't have to submit anything to take part in the discussion!
We're still going to limit this to two pieces per member, and we are asking for photo submissions so we can clearly display the pieces for all to see at the start.
Be sure to submit your photos by midnight Wednesday, June 17 to be included. Members can email your photos using the requirements below. We're working to keep the meeting to about an hour.
We'll open the Zoom meeting Thursday at 7pm and begin a slideshow review of all offerings and give people a chance to discuss their work. Since this is the only subject of the meeting, we are not limited to the usual 10-15 minute session for this.
Connection instructions:
From a computer, you can just click on this link:
https://us02web.zoom.us/j/88292840907

From a smart-phone or tablet: First download the Zoom app from your app store.
- Once loaded, clicking the link above should launch the app and open the meeting.
If that's not handy, enter meeting ID number 882 9284 0907
To participate in the show & tell:
Email your photos to

This email address is being protected from spambots. You need JavaScript enabled to view it.

before midnight June 17.
Include 2 shots of each piece (front/back top/bottom, since we can't hold it up)
Include your name, wood species, largest dimension, and a 2-3 word description.
To help keep this manageable...
One message per item, so no more than 2 photos attached in each email.
No more than TWO items per person please.
Use reasonable photo sizes: We don't need 6M files, so resolution between 500k-1M is fine.
Some tips:
Use a booth/backdrop if you have one,

but it's OK to shoot in your shop

.
Find good lighting, preferably from 2 sources. Don't rely on camera flash.
Find a solid-color wall in your house; avoid any patterned background.
It's OK to hold the piece in hand if you have no table/stand.
Crop your photos fairly close to the object alone, regardless of shape.
We will assemble all the images as a slide show and start the meeting at 7pm. After a brief intro President Steve Criscenzo will walk through the presentation, briefly discussing each piece and inviting the maker to add their own brief commentary and take any questions from the audience.
No one should feel rushed, but we may cut short any long commentary if we know there are a large number of pieces to show still.