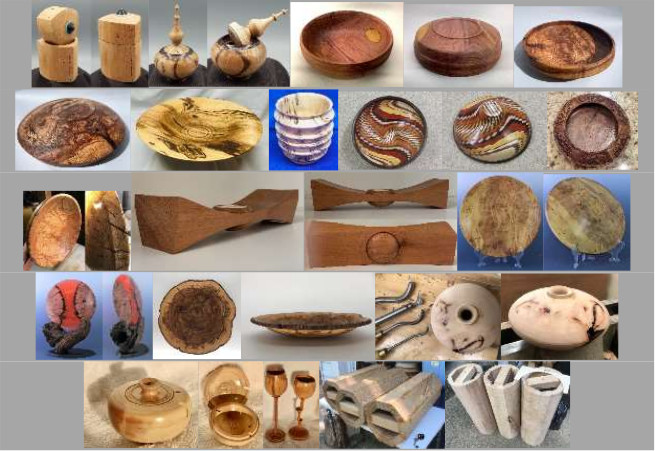 Inviting all members to join the WGNC August show & tell virtual event.  This virtual show & tell format, is to encourage all members to share their finished work, ideas, issues and yes, even those shop disasters.
UPDATE: In case you missed it, the Show & Tell meeting was recorded here.
As we have noted before, we are an inclusive club with members at all levels of turning experience.  WGNC exists to serve these various levels of experience and the show & tell virtual events are proving to be a great way to do this.
So, come join us for another show & tell virtual event August 20th.  You are guaranteed to enjoy an evening with your fellow woodturners.  The format will be the same, where we ask members to submit photos of their successes as well as challenges, photos of work-in-process, closeup shots of problem areas on pieces, etc.  We encourage you to have your piece(s) with you during the Zoom session, so you can hold them up and further discuss them or ask advice of other members.
Nothing to share this month, please join us anyway and take part in the discussion or just sit back and enjoy the show and tell.
Members who are submitting photos to be included in the show & tell event are reminded that there is a limit of two pieces per member. Please submit your photos before midnight Wednesday, August 19th to be included in the show & tell event.  Members can email their photos using the instructions noted below.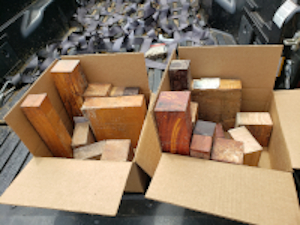 NEW THIS MONTH - As a benefit to our membership, all members present at the end of the meeting will be entered into a raffle for a gift box of turning blanks as well as a gift certificate for Craft Supplies. Two prizes will be awarded.
We will open the Zoom meeting Thursday at about 6:45 and begin the show and tell at 7 pm.
We look forward to seeing all of you this Thursday at 7:00 PM!
Connection and participation instructions:
From a computer, just click here to join.
From a smart-phone or tablet:
Download the Zoom app from your app store. Once loaded, clicking the link above should launch the app and open the meeting. If that's not handy, simply enter meeting ID number 882 9284 0907
To participate in the show & tell:
   • Email your photos to This email address is being protected from spambots. You need JavaScript enabled to view it. before midnight August 19th.
   • Include 2 shots of each piece (front/back top/bottom, since we can't hold it up.
   • Include your name, wood species, largest dimension, and a 2-3 word description.
To help keep this manageable... 
   • One message per item, so no more than 2 photos attached in each email.
   • No more than TWO items per person please.
   • Use reasonable photo sizes: We don't need 6M files, so resolution between 500k-1M is fine.
Some tips:
   • Use a booth/backdrop if you have one, but it's OK to shoot in your shop.
   • Find good lighting, preferably from 2 sources. Don't rely on camera flash.
   • Find a solid-color wall in your house; avoid any patterned background.
   • It's OK to hold the piece in hand if you have no table/stand.
   • Crop your photos fairly close to the object alone, regardless of shape.