We are very pleased that at our next WGNC meeting on Thursday August 13th we will have the famous shavings maker Mike Mahoney!  Mike will do a remote demonstration and address any questions for us around his large area of expertise.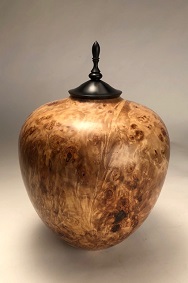 The project Mike will be demonstrating will be a burial urn.  He will be taking us through the whole process he uses to create these masterpieces from wood selection, design, sizing, hollowing, threading and finishing. Along the way he will discuss gouge and sharpening techniques, different types of cuts or any special tools that he utilizes.
Besides demonstrating this very interesting project, Mike will also provide lots of tips and techniques that he has learned over the years of professional wood turning.
This presentation includes: design, material selection, cutting out a blank in preparation for turning, roughing out, hollowing, jam chucking, sanding and finishing.
The more different methods and ideas we are exposed to, the more we expand our own horizons. Sharing is the most important asset that we have, and bringing Mike's world of experience to our local club will certainly help us all grow!
About Mike Mahoney:
Mike Mahoney has been a professional woodturner since 1994. His bowls are featured in galleries a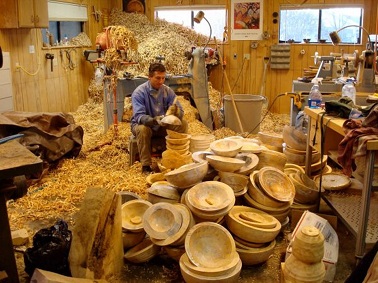 cross the United States.  Mike's work is sought after by collectors all over the world. Mike is often requested to demonstrate and teach for woodturning clubs, craft schools, and symposia. He has traveled around the world to discuss and demonstrate his craft and is considered an authority in woodturning.
As you can imagine, Mike produces a lot of bowls and other turnings but he also produces enormous piles of wood shavings. You can learn more about Mike at his web site:  https://bowlmakerinc.com/
We hope you will join us Thursday evening August 13th for our remote demonstration using Zoom.  The Zoom meeting will be launched at 6:15 PM.  Folks can sign in then and explore Zoom and socialize with other members.  At 6:45 PM we will have a short business meeting and then at 7:00 PM Mike's demonstration will begin.