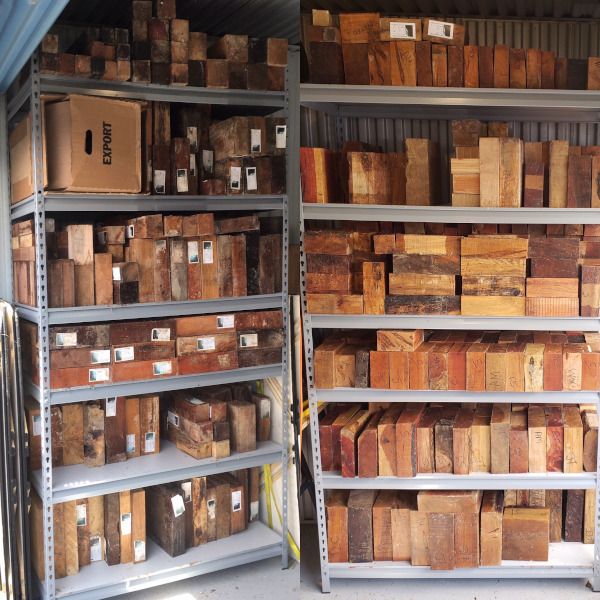 With the COVID related restrictions most of us are dealing with, many of us have had more time to spend in the shop. Unfortunately, due to these same restrictions, our opportunities to acquire the necessary stock for our turning projects has been limited. As a benefit to our members, WGNC recently purchased a large inventory of quality turning blanks and we are going to offer this stock to our membership at a significant discount.
Schedule your appointment for the WGNC Wood Sale.
You must click here to schedule a time in advance
in order to enter the WGNC Storage area.
Due to COVID-19 restrictions, the sale will be limited to one member at a time and you are

required to wear a face mask.




How it works:
Someone will meet you at the gate and direct you to the WGNC unit, where you'll have your scheduled 30-minute window 
to shop and pay.
What you will find:
WGNC recently purchased a large inventory of quality turning blanks.  These are being offered to our members at a 
significant discount.  The stock consists of spindle stock, bowl blanks and platter blanks.  Most of the wood is green and 
sealed in wax.  Prices are generally in the $4.00 to $30.00 range..
When:
10:00 AM to 4:00 PM on both Friday and Saturday, Aug. 28-29
Location:
Ample Storage, 5212 Old Wake Forest Road, Raleigh, NC
This is in North East Raleigh, near the intersection of Falls Neuse and Millbrook Roads.
Terms:
Cash or Check only.  Please bring small bills to make correct amount if using cash.  We will NOT TAKE credit cards for this sale.
Note:
There may be purchase limits on certain items.
There is very limited parking outside the gate so please arrive promptly at your appointed time (but not early).  We will let you in and guide you to the storage unit.
Any questions, please contact Steve Criscenzo or email us at

This email address is being protected from spambots. You need JavaScript enabled to view it.

.