Thursday October 8th 
Meeting Opens at 6:45 PM
Demonstration begins at 7 PM
Are you photographing your work? If not, maybe you should be.  How important is it to share your work with others, maybe with family, club, web site, blog or to sell? Or maybe just to document for reflection.
Sharing your work with others is critically important in receiving feedback of appreciation or recommendations for improvements.  This enables you to grow your skills and achievements and, in some cases, even sell your work. It also provides an image that others can be proud of sharing within their network.
Having a quality image is a direct reflection of your work and is an important element and should trump the piece itself.  Do your images reflect the quality of your work?
How many times have you looked at photos of your work and thought this picture doesn't look as good as the piece really is?  Or looked at someone else's photo and thought this piece looks great, I wish that I could take more pictures like that?  Or as hard as you try, you just can't seem to take a quality photo?
Well help is on the way!  At our next WGNC meeting our fellow woodturner and professional photographer John Vaeth will help us address these challenges! 
John's demonstration will include: what kind of equipment is needed both for a basic and advanced setup, how to easily and quickly set up your equipment to take photos, type of lighting to use and different lighting angles.  This and much more to help you become a better photographer!
Along the way John will also provide lots of tips and techniques that he has learned over the years of combining photography and wood turning.
We hope you will join us Thursday evening October 8th for our remote demonstration using Zoom.  Zoom connection instructions are below.
The Zoom meeting will be launched at 6:15 PM.  Folks can sign in then and explore Zoom and socialize with other members.  At 6:45 PM we will have a short business meeting and then at 7:00 PM John's demonstration will begin.
About John Vaeth: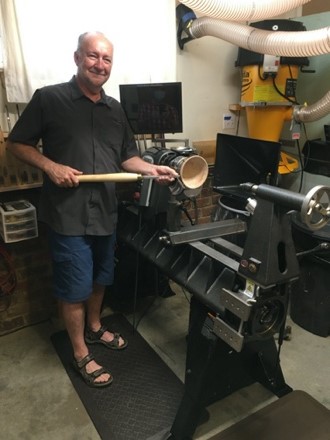 John is a current member of WGNC, and woodworking and photography have long been two of his creative passions.  As a photographer for Kodak, he traveled and taught throughout the U.S., spending summers shooting and leading photo-walks and workshops in the national parks.
Woodworking has been a lifelong hobby and when he is not behind his camera, he is most likely in the shop, creating decorative objects on the lathe.  With all these talents John is an ideal person to help us all improve the way we share and grow our work!
You can learn more about John at his web site.
Zoom Connection and Participation Instructions:
From a computer:
Click on this link: Join Zoom Meeting
When requested, enter the passcode WGNC (this is required)
From a smart-phone or tablet:
First download the Zoom app from your app store. Once loaded, clicking the link above should launch the app and open the meeting.  If that's not handy, simply enter meeting ID number 892 4825 0324 and when requested, enter the above passcode.