Shop Tours for Woodturners
Thursday December 10th
Zoom session opens at 6:15 PM
Business meeting begins at 6:45 PM
Demonstrations begin at 7:00 PM
Have you been thinking of making some improvements to your workshop?  Do you need a few new ideas on how to setup your toolset by your lathe?  How about some ideas on mobility within your shop and some examples of how to make things more compact and portable? 
Well, our next meeting might just be a great opportunity for you to pick up on some ideas and examples as two of our own members share their wood working shops via video tours! 
Update: In case you missed this meeting, WGNC members can request a link to the video by emailing

This email address is being protected from spambots. You need JavaScript enabled to view it.



The main elements we will be exploring in the shop tours are: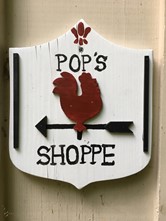 Overall layout: size of shop and choice of location for major tools along with mobile options
Lighting:  artificial / natural lighting placement and types - overhead lighting, task lighting, etc.
Shop temperature control
Organization and storage: shelving, cabinets, drawers
Dust management

Wood processing areas
Lathe specific:  lathe placement, tool access, accessories, prep areas
Finishing areas including a spray booth
Embellishment table:  grinding, piercing, burning, coloring, airbrushing, etc. 
These tours will be relatively short, but will introduce you to the general setup of a wood working shop. After the videos, we are allowing ample time for questions about any of the specific setups.  
All WGNC members and their guests are welcome, so please join us Thursday evening December 10th for our next Zoom demonstration session.  
About our Demonstrators: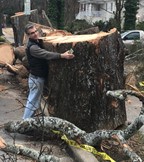 Ted Ross has been a WGNC member for going on five years and has been turning about the same amount of time.  He is currently the WGNC Program Manager and has previously demonstrated coring, assisted with a finishes demo and a Vari-grind demo. Lately Ted has been working on collaboration pieces with his sister Joanne V. Howell using pyrography and coloring. 
Ted has a small shop so will share how he is setup for mobility within the shop for utilization of different tools.  You can find Ted on Instagram and YouTube under Ted's Turnings.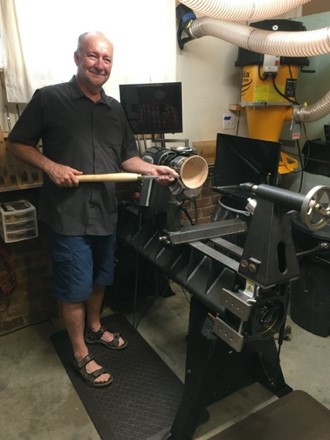 John Vaeth is a member of WGNC with interests in photography and woodturning.  When not behind his camera, he can often be found in his shop creating woodturning art.   John provided a session to WGNC members in October of this year on techniques for photographing their artwork. John returns this month to provide a tour of his shop.
John faces the challenge many of us face in that his shop is located in a space that still has to function as a garage able to house vehicles.  John will show the many useful methods that he uses to be able to maintain the dual functionality of the space. He will also show how he has organized his shop with dedicated work spaces for embellishing and finishing as well as storage of materials and supplies.
You can learn more about John at his web site: click here
The Zoom meeting will be launched at 6:15 PM.  Folks can sign in then and explore Zoom and socialize with other members.  At 6:45 PM we will have a short business meeting and then at 7:00 PM the demonstrations will begin.
Connection instructions:
From a computer:
Click on this link: Join Zoom Meeting
When requested, enter the required club password, which is sent in the email newsletter.
From a smart-phone or tablet:
Download the Zoom app from your app store. Once loaded, clicking the link above should launch the app and open the meeting. If that's not handy, simply enter the meeting ID number 892 4825 0324 and when requested, enter password.