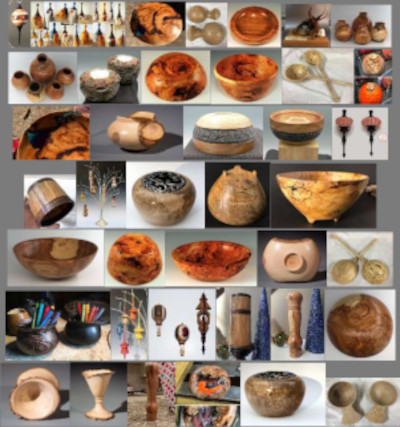 All WGNC members and their guests are welcome to join us for another virtual Show & Tell Gallery Jan 21, 2021.  Spend an evening with your fellow woodturners as we explore and share members' projects, ideas, issues and yes, even those shop disasters. 
The forum is intended for all levels of woodturners and is a safe and respectful place to solicit input and advice regardless of your experience level. So, come join us for this enjoyable interactive session. 
Nothing to share this month? No problem.  Come join us anyway and be part of the interaction.
Submission guidelines:
Email your submissions to

This email address is being protected from spambots. You need JavaScript enabled to view it.

.
The deadline for submissions is 6:00 PM on Wednesday, Jan. 20, 2021.  Due to processing time, we cannot accept entries received after this time.
Include one or two photos of each piece (front/back top/bottom, since we can't hold it up.
Include your name, wood species, largest dimension, and a short (one or two sentence) description. 
Each person can submit up to two items per session.
Send a separate email for each piece submitted.  
Reduce your photo file size before sending – try to keep files to 1Mb or less.
Include your name in your photo file name.
Some photo tips:
Use a booth/backdrop if you have one, or use a solid color wall.
Find good lighting, preferably from one source. Don't rely on camera flash.
If it's a finished piece, we suggest your best "gallery" shot and another of the bottom or profile/detail not shown in the main shot.
If it's a work in progress, closeup shots of problem areas or specific challenges would be appropriate.  
Crop your photos fairly close to the object alone.
 Connection instructions:
We will open the Zoom session at about 6:30 for informal socializing and begin the meeting at 7 pm.
From a computer:  Click on this link: Join Zoom Meeting
When requested, enter the required club password, which is sent in the email newsletter.
From a smart-phone or tablet:  Download the Zoom app from your app store. Once loaded, clicking the link above should launch the app and open the meeting. 
If that's not handy, simply enter meeting ID number 892 4825 0324 and when requested, enter the password. 
Did you miss the last Show & Tell? If so, you can still watch it here.