Thursday February 11th 
 Zoom call opens a 6:15 for socializing
 Meeting begins at 6:45 PM
 Demonstration begins at 7 PM
Have a beautiful burl – or keep thinking about buying one – but you aren't sure how to take it from raw form to finished artwork? In this demonstration we will take three different burl shapes and show the progression from raw burl form to an "obvious" stopping point, ready for final turning and finishing. It may be finishing "just like a bowl," or "just like a vase," and so forth. The idea is to see as many options as possible to help as many woodturners go from bump on the side of a log to finished piece as possible.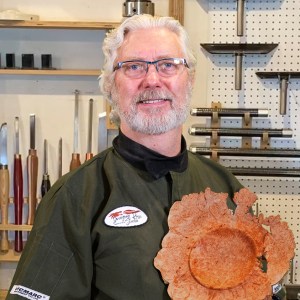 These are the main elements we will be exploring:

- Show finished pieces and the raw forms they came from.

- Examine different examples and discuss what to think about and potential approaches.

- Discuss initial shape of burl and processes to get to final design

- Discuss both beginner and advanced techniques, including holding the burl on the lathe.


- Take two or three different burls and work them far enough that the next steps are "obvious" – foregoing completion in order to see more techniques.

- Techniques will include turning without a tenon, burl edge up vs burl edge down, advanced techniques of natural edge, deep-V vase.

We hope you will join us Thursday evening February 11th for our next demonstration meeting using Zoom.  Instructions are below.
About our Demonstrator:
Phil Rose is known for his thought-provoking wood-based art that starts life on a lathe but may be embellished with wood burning, dye, fused glass, or other delightful techniques. Some of his current work is inspired by thoughts of wave patterns and abstract shapes, as well as creating common objects with different wood. 
Phil strives to separate the mechanical aspects of woodturning from the physical results, inspiring views to not only admire the art but also wonder how it was created. Phil often says, "While I do generate ideas of art forms that I like to create, ultimately the wood needs to tell me what it wants to be for its second life."
To learn more about Phil and his art, visit his website by clicking here.
Connection instructions:
From a computer:
Click on this link: Join Zoom Meeting
When requested, enter the required club password, which is sent in the email newsletter.
From a smart-phone or tablet:
Download the Zoom app from your app store. Once loaded, clicking the link above should launch the app and open the meeting. If that's not handy, simply enter the meeting ID number 970 5131 4920 and when requested, enter the password. 
Did you miss the last Demo? If so, you can still watch it here.