Thursday March 11th 
 Zoom call opens a 6:15 for socializing
 Meeting begins at 6:45 PM
 Demonstration begins at 7 PM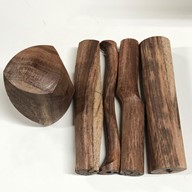 Have you been interested in exploring multi-axis turning techniques, but it all seemed a bit confusing? Or, perhaps you have tried multi-axis turning, but you just are not achieving the desired results?If so, this demonstration will provide helpful solutions to the challenges of multi-axis turning.The March demonstration, by Jason Clark, will focus on explaining and simplifying his approach to multi axis turning.
The first half of the demonstration will cover turning a variety of multi-axis spindles, including the basic mechanics of multi-axis turning.The second half of the demonstration will present the methods used for turning a lidded box that is turned on 3 axes, so that the outcome has a 120-degree twist running along the length of the box.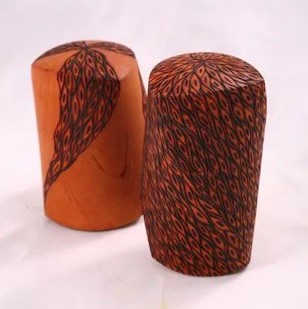 The Demonstration will explore:
The main elements of multi-axis turning
A simple process for the layout of the center points that induce the twist.
A method to control direction of the twist. 
Turning sample spindles that feature various multi axis techniques and designs.
Getting comfortable working with multiple centers and working with interrupted cuts.
The basic steps for turning the multi-axis lidded box.
 We hope you will join us Thursday evening March 11th for this informative demonstration of this unique technique.  Connection instructions to the Zoom session are below.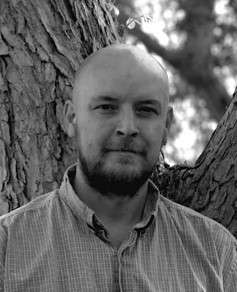 About our Demonstrator:
Jason Clark has been heavily involved in Woodturning for nearly 2 decades being primarily self taught in a modest 2 car garage in his spare time. He is a demonstrator, teacher, artist, husband, and father.  Woodturning is his passion and he is an ambassador for all aspects of woodturning as well as wood art in general.
Jason has given demonstrations on a wide variety of topics including his signature Saturn bowls, lidded boxes, jigs and tricks, vacuum chucking, multi axis turning, and more.  He also teach hands-on classes including classes for beginners and a hands-on class for making his signature Saturn Bowl
To learn more about Jason and his art, visit his website by clicking here.
Connection instructions:
From a computer:
Click on this link: Join Zoom Meeting
When requested, enter the required club password, which is sent in the email newsletter.
From a smart-phone or tablet:
Download the Zoom app from your app store. Once loaded, clicking the link above should launch the app and open the meeting. If that's not handy, simply enter the meeting ID number 892 4825 0324 and when requested, enter the password.